Meteorologists
Featured Meteorologist Chad Sandwell
Chad is the Chief Meteorologist at KFDM/Fox 4 Beaumont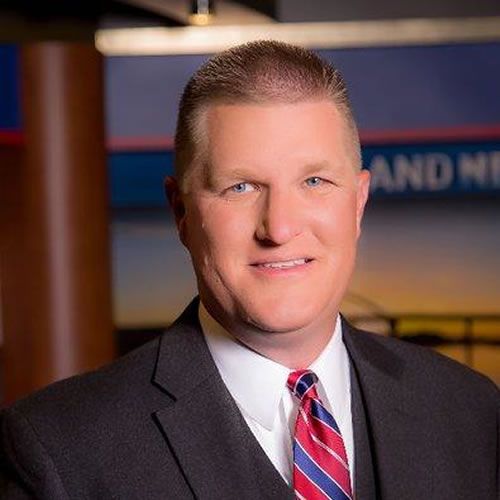 Q and A with StormHour Featured Meteorologist – Chad Sandwell
Chad Sandwell – Beaumont, TX
Chad is the Chief Meteorologist at KFDM/Fox 4 Beaumont. He's an avid golfer and Jayhawk fanatic. He is the proud husband to Stephanie and father to Eryn
Question 1. What was your most memorable weather event?
I would have to say, probably because it was the most recent was the Pilger, Nebraska tornadoes on June 16, 2014. What an amazing afternoon; Twin EF-4 tornados that destroyed more than half the town.
Question 2. What is your favorite type of weather?
I would probably say winter weather is my favorite. Big snow storms can be crippling, but when it's over and the sun shines on the snow. The pictures are gorgeous. My least favorite is tropical weather. You know they are coming several days in advance, but as we have just seen with Harvey…sometimes there is nothing you can do to escape the storms wrath. It's a totally helpless feeling.
Question 3. If you weren't a meteorologist, what would you most like to be?
I would like to think I would be involved in sports somehow. Maybe coaching or officiating.
Question 4. From a purely meteorological point of view, where would you most like to live?
I'm a little bit biased in my opinion on this, but the Midwestern United States is the best place to live from a meteorological point of view. We get a little bit of everything. Things like thunderstorms & snow storms. It gets warm and it certainly can get cold. Like they always say, if you don't like the weather wait 15 minutes cause it will change soon enough.
Question 5. Is there anything else you'd like to share?
I have been lucky to have been able to be a Broadcast Meteorologist for more than 20 years, and I am also lucky to have an understanding wife and daughter who have a lot of times have had to endure all these storms by themselves while I have been at the office trying to keep the communities warned and aware. So to them, I say thank you!