Meteorologists
Featured Meteorologist Aaron Perry
Aaron grew up on Cape Cod and has studied New England weather for over a decade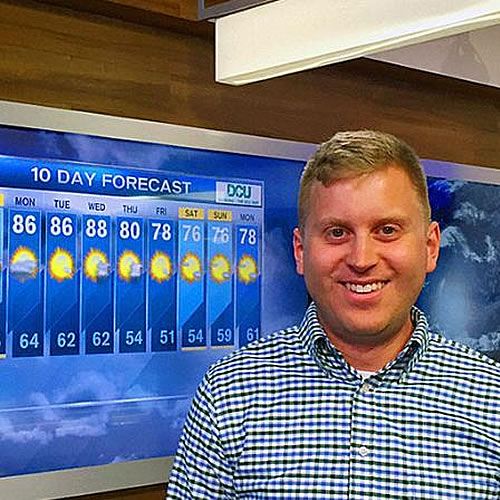 Q and A StormHour Featured Meteorologist – Aaron Perry
Aaron Perry – Boston, MA
Aaron grew up on Cape Cod and has studied New England weather for over a decade, especially wintertime Nor'easters. He interned twice at New England Cable News (NECN) under Chief Meteorologist Matt Noyes while in college. After graduation, he jumped at the opportunity to work as a weather producer and off-air meteorologist at NBC Boston and NECN. Aaron is a graduate of Lyndon State College, home of one of the nation's top collegiate Atmospheric Sciences programs.
As a lifelong New Englander, Aaron has always had a passion for the wide range of weather that the region has to offer. In his free time, you can usually find him running or hiking somewhere in Massachusetts or New Hampshire.
Question 1. What was your most memorable weather event?
The Northeast Blizzard of this past February. Without. A. Doubt. It wasn't the largest blizzard the region has ever seen but, it will always hold a special place with me. I had just finished a 14-hour shift tracking the system and collecting snowfall amounts from across New England. It was time to head home and the snow bands had begun to subside a bit as the storm pulled away from the coast and dry air was wrapping in around the backside of the storm. As soon as I got on the road, I knew I should have waited a bit long before leaving. There was easily 6 to 8 inches of snow on the "plowed" roadways. The truth was, the snow had been falling so hard just a couple hours earlier that road crews were still playing catch-up. A normally ten-minute drive turned into a forty-minute drive and I made it home safely. Needless to say, I learned my lesson and next time, I think I'll just wait a little longer before jumping out on the roads!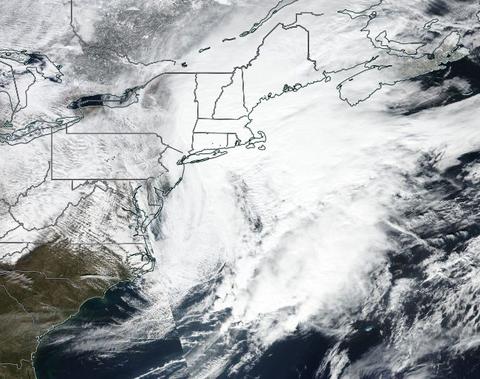 February 2017 North American blizzard Image courtesy of NASA and Wiki
Question 2. What is your favorite type of weather?
Definitely snowstorms. Seeing a pattern here? There's something fantastic about an impending snowstorm… It becomes the center talking point for everyone and as the meteorologist, it's probably the most humbling forecast experience you go through throughout your career. It isn't a perfect science but, we are becoming better at it every year and getting "on base" more often than not.
Question 3. If you weren't a meteorologist, what would you most like to be?
A professional adventurer, because nothing quite beats experiencing the outdoors and enjoying nature. Being outside restores your connection with nature and can help clear your mind and improve your mood. I am currently working on the Appalachian Mountain Club's NH48, a challenge to summit all of New Hampshire's forty-eight 4,000-ft+ mountains. Not an easy feat!
Question 4. From a purely meteorological point of view, where would you most like to live?
I find my mind drifting towards Iceland… There's something beautiful and awe-inspiring about the incredibly-powerful ocean storms that they encounter up there. Some cyclones produce some of the lowest barometric pressures on the planet.
Question 5. Is there anything else you'd like to share?
Stay humble and stay hungry. These are two very important and distinct considerations, especially in the weather business. Staying humble allows you to stay open to the idea that sometimes you will get the forecast wrong. It's a fact and will make coming back from a bad forecast that much easier. Staying hungry allows you to acknowledge your mistakes, learn from them, and keeping moving forward to the next forecast.
If you are interested in being a Featured Meteorologist on StormHour please contact mark @ stormhour.com or via DM on Twitter