News
Stephen Cheatley
Stephen Cheatley is judging this week's competition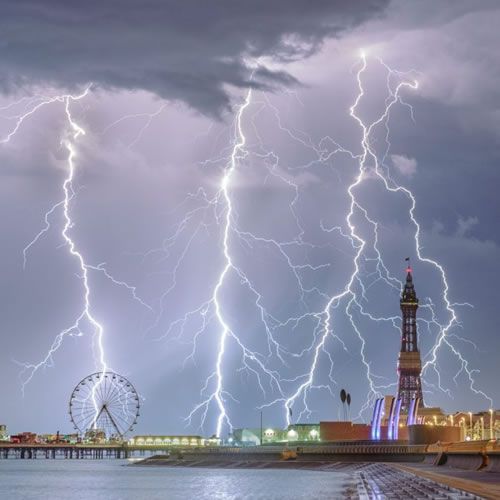 Stephen Cheatley is judging this week's competition.
Stephen recently won the Weather Photographer of the Year 2018 competition organised by The Royal Meteorological Society in association with Accuweather.
You can find out more about Stephen and see many more fantastic images on his photography website, or you can follow him on Twitter. – Also, read the story behind his winning photograph below!
I'd never captured a photograph of lightning before the night of July 4th 2015. In fact, thunderstorms are so rare in Blackpool that I won't have had many chances anyway. We maybe get two storms a year if we are lucky; even those could be very brief.
It was a Friday, and I remember hearing of possible thunderstorms developing during the night. We already had a spectacular thunderstorm earlier in the week, which I tried in vain to photograph. I was determined this time to go out and see if I could get a picture of lightning strikes.
I chose to go to Blackpool promenade with the idea of capturing lightning with an interesting foreground.
It wasn't long before I was capturing spectacular forked lightning strikes over the Irish Sea. Then I noticed a particularly intense storm moving inland from the west. It was then that I decided to compose an image of the pier and the Tower, with the hope that I may be lucky enough to catch some strikes above them. I chose a shutter speed of 5 seconds with an aperture of f5.6 at ISO 200 because this gave a suitable exposure of the foreground. It didn't take long before I was capturing the most incredible lightning strikes right where I wanted them. When I captured the image of multiple forked lightning I knew I had the shot of a lifetime. After going home and sharing my image on Social Media it went viral the next day.
This is certainly my most memorable weather event.
I would really like to live in Florida because thunderstorms are so common there. I'm sure I would get many chances to photograph storms, and it's pretty warm too! I'm not sure if I would enjoy the hurricanes though.