Meteorologists
Feature Meteorologist Rick Dickert
Rick is AMS Certified broadcast meteorologist and Skyfox helicopter reporter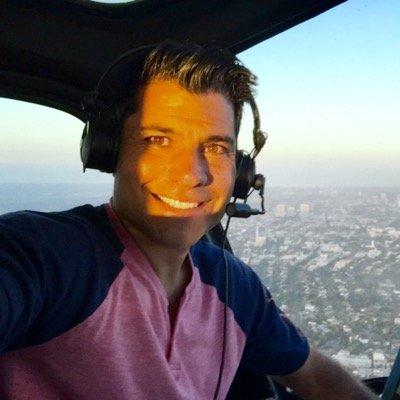 Q & A with Featured Meteorologist – Rick Dickert AMS Certified Broadcast Meteorologist from Los Angeles
Rick Dickert – Los Angeles, CA
Rick is AMS Certified broadcast meteorologist and Skyfox helicopter reporter for Fox 11 Los Angeles. Operating at 1000 feet above LA!
First CBM Seal by AMS issued in Los Angeles market
Question 1. What was your most memorable weather event?
I'm fortunate that I get to cover the weather here in Los Angeles from a helicopter. Being up and out in the elements makes watching all weather events special. One that stands out is the massive surf generated by category 5 Hurricane Marie in late August of 2014.The 140 knot sustained winds (919mb center) generated the largest swells in years. Marie tied as the 6th strongest hurricane ever recorded in the Pacific Basin. I watched, showed and reported on 20-30′ waves as they slammed Southern California beaches. Showing the surf from my aerial perspective and sharing with our viewers the dynamics behind the large swell was something quite special.
Question 2. What is your favourite and least favourite type of weather?
Being up in the helicopter, WIND is my least favorite! Getting bumped around by 50 knot Santa Ana winds is no fun! With these warm, dry winds come wild land fires which I cover often during the autumn months.I like rain! Until recently, we haven't seen much of it with the ridiculous resilient ridge in place causing the 5+ years of drought in California. Fortunately, and unfortunately for the burn areas, the rains have returned.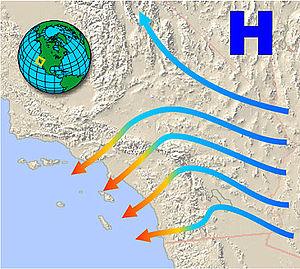 Santa Ana Winds
Question 3. If you weren't a meteorologist what would you most like to be?
I would work in aviation in some capacity. Weather and aviation go hand in hand and I do get a little taste of this. In addition to my broadcasting career, I also work as a certified weather observer for the FAA/NWS. I spend a few days a month up in the control tower at LAX taking surface aviation weather observations (METARs/SPECIs)
Question 4. From a purely meteorological point of view, where would you most like to live?
I would never move! I know most think there is little weather in Southern California, but we do get strong winter storms, heat waves, Santa Ana wind events and micro-climates that can create temperature difference of 40 degrees over just 15 miles. We have deserts, mountains and beaches. I grew up on the sand surfing and love coastal living and hope to be here forever. I love L.A.!
Question 5. Is there anything else you'd like to share?
Expanding a little more on my helicopter reporting, being able to show our atmosphere in motion on a daily basis allows me to educate our viewers in a unique way. I capture wind, rain, fog and high surf from above Los Angeles and prefer this much better than a green screen. I call it "my corner office at 1000 feet" ..I have the best view as a meteorologist and love to share it!
If you are interested in being a Featured Meteorologist on StormHour please contact mark @ stormhour.com or via DM on Twitter