News
Featured Photographer Maja Kraljik
Interview by Pavel Neuman. It's an honour for me to be able to interview Maja, the most famous Croatian stormchaser!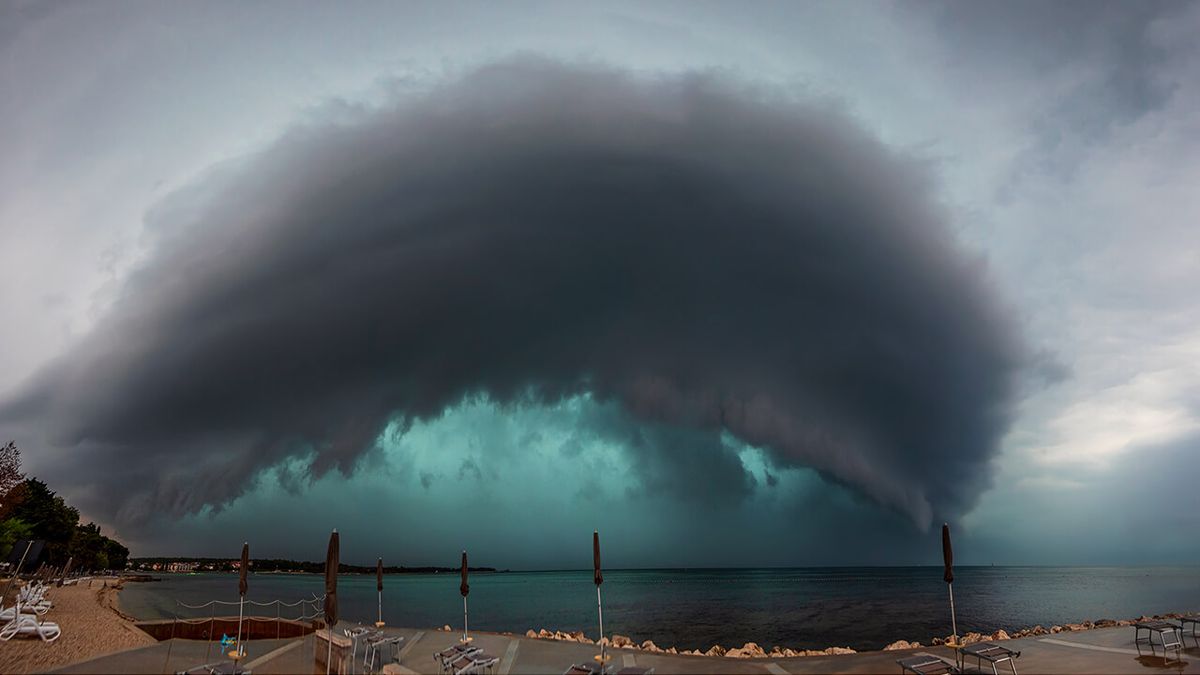 Q and A with Featured Photographer Maja Kraljik
It's an honour for me to be able to interview Maja, the most famous Croatian stormchaser! Maja is currently short-listed for The Royal Meteorological Society's Weather Photographer Of The Year award. Read on to discover more about chasing in the Balkans, her favourite weather phenomenon and how to keep safe during a chase. You can follow Maja's work on Facebook, Instagram and Twitter.
What was your most memorable chase?
Maja Kraljik: Earlier this year in May when I captured two beautifully structured supercells in one night. Also now in August when I saw a beautiful and epic shelf cloud.
Yes, those supercells were incredible, and we are delighted to have one of these photos in our collector's canvas prints collection. Can you tell us more about shooting this remarkable cloud structure?
Maja Kraljik: That day the conditions were very unpredictable, and I was without an internet connection and therefore without radar, consequently I couldn't be entirely sure of where I should head. Ultimately, my estimates were more than accurate, and I got the most beautiful shelf cloud since I do what I do. My happiness had no bounds!
Which is your favourite photo and why?
Maja Kraljik: My favourites are the ones I mentioned in your first question. I have a lot of really dear ones because each situation was special in itself, but these are my favourites.
What is your favourite piece of gear? What type of camera do you use and what is your favourite camera or lens?
Maja Kraljik: I'm an ambassador for Nikon, and I adore all the equipment that I have, but the best to me is my Nikon D810 with the 16-35 lens on it because I love a wide-angle.
What weather phenomenon is your favourite one to shoot?
Maja Kraljik: I'm in love with clouds and cloud structures, so of course, my biggest goals are supercells and shelf clouds. I also photograph other cloud shapes depending on the situation and other phenomena.
From a purely photographic point of view, where would you most like to visit?
Maja Kraljik: Of course, like most, my great desire is to go to America for the most beautiful supercells and structures. Many people target tornadoes, but to me, the most significant target would be a severe mothership supercell, even more than a tornado, which I would still love to see.
Can you tell us more about the Balkan storm-chasing scene? What names from the ex-Yugoslavia region should our readers be looking for on Twitter or Facebook?
Maja Kraljik: The Balkan scene is not that much different from the others, maybe only that we don't have to use any extra equipment as the US chasers with much stronger storms, for which such equipment is necessary.
Names…I would definitely single out Marko Korosec from Slovenia who in my opinion, is still the best in the wider Balkans area. Personally, he has always been a role model for me, and today I am happy that he is also my friend.
Others are Gregor Vojščak also from Slovenia, Boris Jordan from Germany, Danijel Palčić from Croatia.. also my good friends.
Incidentally, we are currently in the process of scheduling an interview with Gregor, so it's good to see you mention him. Is there anything else you'd like to share?
Maja Kraljik: One of the reasons I decided to do this was to keep the fear of lightning to a minimum. It is essential to know how to behave appropriately during a storm. Everyone who storm-chases knows that. Ultimately, I kept my fear to a minimum the way I wanted to. Of course, there are times when I really don't care, especially if I find myself in the middle of a storm. However, I am more afraid of large hail than lightning. But what I most definitely worry about people driving during a storm as it can be so dangerous in strong winds with falling trees.
In any case, one should respect nature and know how to adapt.
Thank you for the interview, Maja!
Maja Kraljik: It was my pleasure, I'm really grateful to be featured on StormHour, especially after I saw you had featured one of my heroes Mike Olbinski too. It's great to be included amongst such illustrious company!
Maja on Facebook | Maja on Instagram | Maja on Twitter.