Meteorologists
Featured Meteorologist Tom Niziol
​Tom Niziol is the winter weather expert for The Weather Channel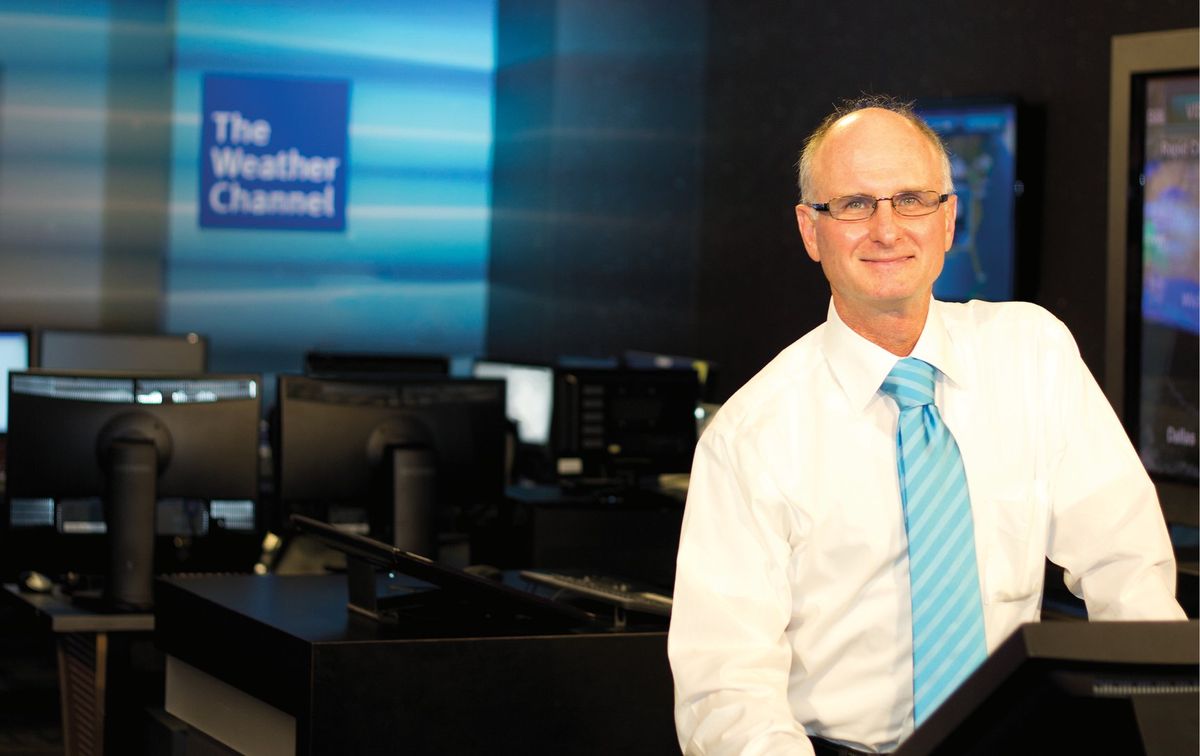 Tom Niziol – The Weather Channel
​Tom Niziol is the winter weather expert for The Weather Channel. A 30-year winter weather forecasting veteran, Niziol is the primary source of meteorological content, expertise and analysis for winter weather. Niziol is featured regularly during winter weather coverage on The Weather Channel.
Question 1. What was your most memorable weather event?
I love snow and coming from Buffalo, NY I particularly like lake-effect snow.  However, a 24" heavy, wet lake-effect snowstorm that occurred on October 12-13, 2007 not only crippled the area but left a large percentage of the trees damaged from that storm. Trees were fully leafed out still in mid-October and we were all getting ready for the beautiful fall colors to peak.  But on the evening of the 12th a very narrow snowband developed off Lake Erie where the water temperature was a warm 62F !!  Snowfall rates picked up to as much as 2"/hour and lightning and thunder began before midnight.  As I walked outside overnight to try to measure the snow I heard the sickening sounds of ripe, green tree branches "peeling away" under the weight of the heavy, wet snow.  I called it "The night the trees cried". Flashes of light were either power lines arcing under the weight of the snow, or if I heard thunder soon after I could verify we were getting thundersnow.  I was without power for a week.  It was estimated that nearly 90% of the trees under this snowband were damaged. The band itself was only 10 to 15 miles wide and friends and family only a few miles from where I lived had green grass rather than snow.
Question 2. What is your favourite type of weather?
My favorite weather is snow.  It is surreal, it changes the landscape into something from another world.  It is so much fun to experience, you can ski on it, sled on it, make a snowman, build a snow fort, make a snow angel.  It turns most adults who take the time to enjoy it into kids once again. In fact, I love it so much, I developed a little hobby photographing snow crystals with just an old microscope and point & shoot camera. They aren't professional quality but I get a charge out of them each time I put a slide under my microscope.  I cannot believe that these beautiful pieces of nature's art come from the sky!!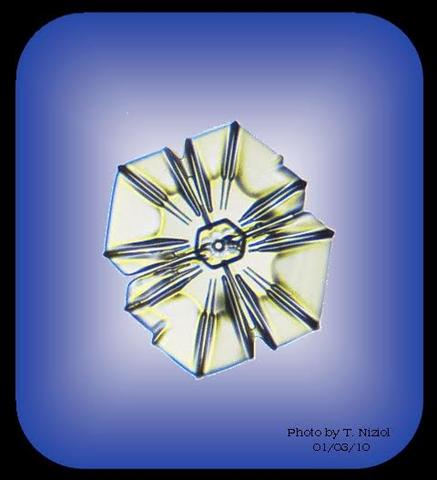 Snow Crystal by Tom Niziol
Question 3. If you weren't a meteorologist, what would you most like to be?
I am so curious about nature, I am always looking at so much around me. I LOVE photographing flowers and insects and I think I could easily be an entomologist. Once again, it amazes me just how perfectly evolved insects are to not only survive but thrive in so many types of weather and climate.
Question 4. From a purely meteorological point of view, where would you most like to live?
​​Meteorologically, I always monitor the conditions on top of Mt Washington, New Hampshire, which sits at 6288 ft. and boasts some of the most severe winter weather in the world.  I guess I would settle for any area however that has 4 distinct seasons.  As a kid I loved the anticipation of each season and what type of weather and change to the landscape each season brings.  It NEVER gets boring!

​One of Tom's fantastic macro snow photographs!