Meteorologists
Featured Meteorologist Thomas Geboy
Thomas Geboy is the weekend evening meteorologist at WKRG.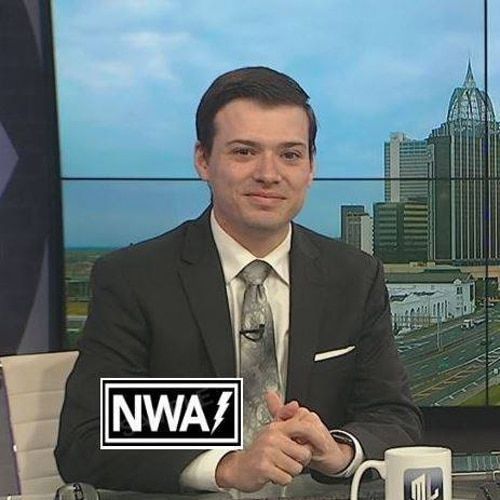 Q and A with Meteorologist Thomas Geboy from Mobile, Alabama
Thomas Geboy is the weekend evening meteorologist at WKRG.
For Thomas, moving to Mobile is a homecoming. He grew up in nearby Jackson County, MS in Ocean Springs. Thomas has always had a passion for weather. His passion for weather actually started in Baldwin County. As a kid he used to track hurricanes with his grandmother by pen and paper. Then having been on the Gulf Coast when Katrina hit, that's when he decided he wanted to pursue weather as a career.
Before joining news 5 Thomas was the afternoon meteorologist for WTVY & WRGX TV in Dothan AL. There he covered numerous severe weather events along with gaining experience in forecasting along the Gulf.
Thomas is a very proud Mississippi State Bulldog with a bachelor's degree in broadcast meteorology. While in school Thomas was also a member of the Mississippi State ice hockey team.
In his spare time he likes to spend time with his wife and dog. Plus Thomas is an avid golfer who gets out there at any opportunity.
You can follow Thomas on Twitter or alternatively over on Facebook.
What was your most memorable weather event?
Most memorable weather event was by far Hurricane Katrina. I'm from the Mississippi Gulf Coast and while my house didn't flood I couldn't believe what I saw as a lot of my neighborhood was heavily damaged and there were some houses closer to the water that were completely gone. It's ultimately the main reason why I became a meteorologist. In times like that I want to be the one people can trust and help them like the meteorologists that helped my family make decisions about evacuating before the storm.
What is your favourite type of weather?
My favorite kind of weather is tropical number one and mesoscale weather like sea-breezes a close 1b.
If you weren't a meteorologist what would you most like to be?
If I wasn't a meteorologist I would likely be a teacher. I'd love to be able to teach and work as a meteorologist at the same time one day.
From a purely meteorological point of view, where would you most like to live?
I think that I'm in the perfect place to live from a meteorological aspect. We get a mix of mesoscale, tropical, and severe weather along the Gulf Coast. While I enjoy winter weather forecasting, I'm glad I don't have to do it too often. If I had to choose another place it would be a place with mountains. I really enjoyed the weather while I working in Colorado.
Is there anything else you'd like to add?
I guess the only things I'll add is that I have a bachelors and master's degree in meteorology. Both are from Mississippi State University.
If you are interested in being a Featured Meteorologist on StormHour please contact mark@stormhour.com or via DM on Twitter