Meteorologists
Featured Meteorologist Kris Crocker
Kris loves skiing, snowboarding, golf, climatology and being a mom.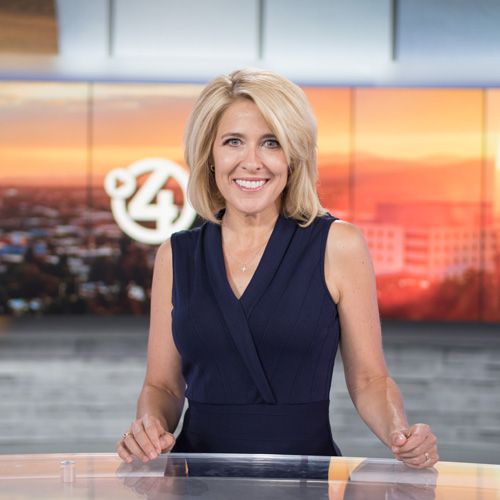 Q and A with Kris Crocker Chief Meteorologist at 4 News Now in Spokane, Washington
Kris loves skiing, snowboarding, golf, climatology and being a mom. You can read here full Bio here
Follow Kris on Twitter or check out her Facebook page
What was your most memorable weather event?
I lived through many tornadoes during seven years in Oklahoma, but it was a straight-line wind event here in Washington State that really sticks with me. It was November of 2015. The winds were in the 70+ mph range, and this region is covered in 130′ tall Ponderosa Pines. Those trees were snapping like matchsticks everywhere. I was out of power at my house for a week. Of course, it was late November and very cold behind the storm. On day 5 without power, my husband and I attended a Humane Society event and soothed our rattled nerves with a little too much wine. Cut to: we woke up the next morning with two new barky dogs to add to our already pet-heavy household. As long as those dogs are barking, I'll remember that storm.
What is your favourite and least favourite type of weather?
My favorite type of weather is COLD and SNOW. The colder and snowier the better. It is especially lovely here in the Northern Rockies because it is a dry, light fluffy snow. My least favourite type of weather is heat and HUMIDITY. It grosses me out, and it makes me nervous about severe weather. Hats off to all of the meteorologists in tornado country.
If you weren't a meteorologist, what would you most like to be?
I've always wanted to be a science reporter. I love that NPR Podcast "Short Wave", and I think it would be so much fun to work there. I would also love to work at a university doing geology or plasma physics research.
From a purely meteorological point of view, where would you most like to live?
I love mountain weather, and I would like to live in the mountains so I could become an expert. Maybe Niseko, Japan (JAPOW!) or Jackson Hole, Wyoming.
Is there anything else you'd like to share?
I think meteorologists are among the finest people I know. Thank you all for what you do to educate the public, keep people safe, and share the stoke.
If you are interested in being a Featured Meteorologist on StormHour, please contact mark @ stormhour.com or via DM on Twitter.