Meteorologists
Featured Meteorologist James Gilbert
James is a Meteorologist at News 8 – WROC-TV in Rochester, New York.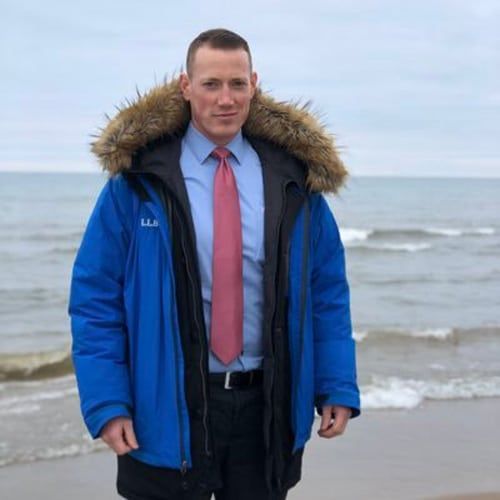 Q and A with News 8 – WROC-TV Meteorologist James Gilbert from Rochester, NY.
James is a Meteorologist at News 8 – WROC-TV in Rochester, New York. He can be found on Twitter and also on Facebook
Alternatively check out his full bio here (Due to GDPR regulations this bio is only visible to non-EU citizens)
What was your most memorable weather event?
My most memorable weather event was on a sunny day! On March 8th, 2017 a deep low across Hudson Bay made for an incredibly tight pressure gradient across Western New York that produced winds that sustained around 60 mph for a stretch of about 5 hours as a strong lower level jet mixed down under sunny skies. A gust at the Rochester airport got to 82 mph, the second strongest ever recorded. Hundreds of thousands lost power due to powerful straight line winds from a deep low in Canada. Our chief meteorologist was on vacation in Florida, so it was all me on weather.
What is your favourite and least favourite type of weather??
My most favorite type of weather would have to be lake-effect snow. There is nothing like driving through a snow-band producing 3″+/hour snowfall rates.
a. Least favorite is cold rain. When temperatures are in 30s and it's raining… THE WORST!
If you weren't a meteorologist, what would you most likely be?
If I wasn't a meteorologist I'd probably work as a climate consultant. Many businesses are being forced to adapt to a rapidly changing environment if they want to be successful long term. The businesses that are not adapting may lose out.
From a purely meteorological point of view, where would you most like to live?
I'm in a pretty perfect spot for lake-effect snow in Rochester. But even better would be somewhere on the Tug Hill Plateau east of Lake Ontario. Let's go with Redfield, NY (~300″/year)
Is there anything else you'd like to add?
Whenever you walk outside, always look up! You never know what you might see.
If you are interested in being a Featured Meteorologist on StormHour please contact mark@stormhour.com or via DM on Twitter