Meteorologists
Featured Meteorologist Ian Cassette
In Ian's words: "Born and raised near Tampa, Florida, I was all too familiar with summer storms, lots of humidity, and hurricanes."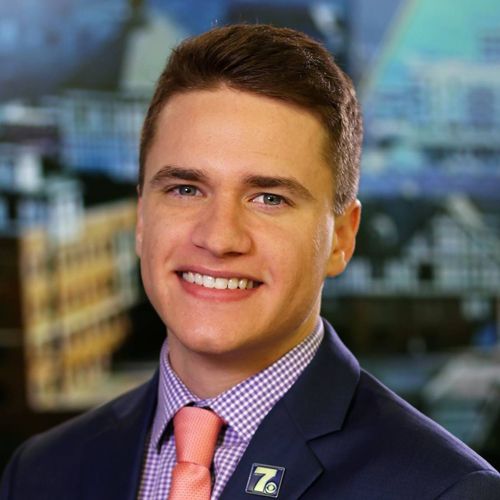 Q and A with Ian Cassette Meteorologist at WDBJ7 in Roanoke, Virginia.
In Ian's words:
Born and raised near Tampa, Florida, I was all too familiar with summer storms, lots of humidity, and hurricanes. During the 2004 and 2005 hurricane seasons, I couldn't stop watching local TV meteorologists stand with a mic in hand with winds blowing them sideways.
From then on, my interest in weather only grew. I graduated from Florida State University in 2015 with a B.S. in Meteorology.
The summer after graduating FSU, I began my career in Topeka, Kansas. I quickly learned how intense the weather is there covering multiple tornado outbreaks.
My next step in my career took me to Roanoke, Virginia. After living here for years I have experienced all sorts of weather including major floods and more tornado outbreaks. The weather here seems to find a way to keep you busy!
When I'm not busy and working, I love to hike, visit breweries and go to music shows.
You can follow Ian on Twitter here or alternatively over on Facebook
What was your most memorable weather event?
My most memorable weather event in my career had to be when I covered a severe weather outbreak in Kansas at my first job by myself. Our chief meteorologist had a terrible migraine during coverage and had to go home leaving just me in the studio. At the time, there were no active warnings, but within 20 minutes multiple severe thunderstorm warnings were issued followed by a tornado warning that included a local college town. I was green, but I had no choice and I ended up talking endlessly on air for 25 minutes. It was a huge learning moment for me and something I'll likely never forget!
What is your favourite and least favourite type of weather?
As a Floridian, I am super partial to a summer-time thunderstorm. There's just something about a booming thunderstorm with heavy rain followed by quiet weather a blink of an eye later. As for least favorite weather, I've come to hate post-frontal winds in the winter. I could do without single digit wind chills.
If you weren't a meteorologist what would you most like to be?
Hard to say for sure what I'd be if I wasn't a meteorologist since I became obsessed with weather from an early age. I'd have to say somewhere between a biologist or an architect. I'm sure those jobs intertwine somewhere, right? I also really love music and going to shows, so something in the music business would be cool.
From a purely meteorological point of view, where would you most like to live?
Hmm there are still many places I have yet to visit in the US. I've always thought the Pacific Northwest would be a great place to live. No hurricanes, but plenty of rain and mountain snow to talk about. Plus, it doesn't actually get too terribly cold in the winters there!
Is there anything else you'd like to share?
I'm happy I chased my dream and became a meteorologist. Not many people get paid to do what they love, but I'm super grateful for it.
If you are interested in being a Featured Meteorologist on StormHour please contact mark@stormhour.com or via DM on Twitter