Meteorologists
Featured Meteorologist Eric Snitil
Chief Meteorologist Eric Snitil grew up living and loving Great Lakes weather, on the shores of Lake Erie.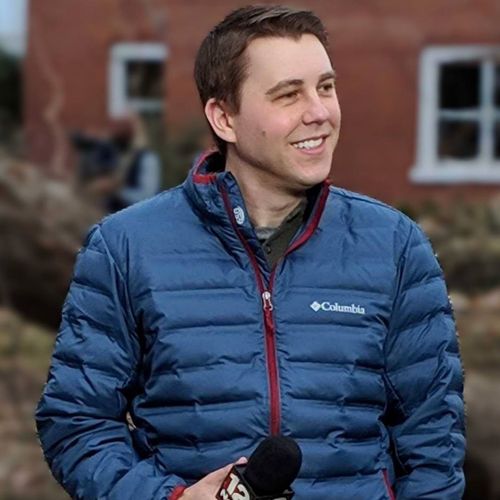 Q and A with Rochester, NY Meteorologist Eric Snitil
Eric is the Chief Meteorologist at WROC in Rochester, New York. NWA Seal Holder.
Chief Meteorologist Eric Snitil grew up living and loving Great Lakes weather, on the shores of Lake Erie. He went on to forecast weather in Ohio, Alaska, and even Alabama, some of America's most challenging climates. You can read his full bio here (Not available for European Community visitors)
You can also follow Eric on twitter or check him out over on Facebook
What was your most memorable weather event?
My most memorable weather event is one I wish never happened. In March of this year while at WSFA in Montgomery, we covered the EF-4 tornado that struck Beauregard, Alabama. It was a massive tornado that tore through a town that largely wasn't equipped to survive a tornado of that magnitude. I'll never forget being on the air while reports of fatalities started trickling in. No worse feeling in the world. We lost 23 people, including children. I've covered countless tornadoes, but that one will forever be etched in my memory. There's an abundance of negatives, but it was inspiring to watch the community come together and lift each other up. All of us covering that storm grew as people, and I think we even became better meteorologists as a result. It's remarkable how even the darkest moment can yield a few positives.
What is your favourite and least favourite type of weather?
I love lake-effect snow! It's an area of meteorology that is still poorly predicted at times, and is a very humbling part of the job. You can't beat 3 feet of snow on the ground in one town and green grass just a few miles down the road. I still have a very strong passion for severe weather and tornadoes. I hate what they are capable of doing, however.
If you weren't a meteorologist what would you most like to be?
Teaching runs in my family, and it's something I've often said I'd be involved with if it weren't for meteorology. It's a natural bridge, many in the television weather business are inherently great communicators and would make excellent teachers. Some even teach on the side!
From a purely meteorological point of view, where would you most like to live?
Oooh…good question. I'd love to live somewhere that experiences all 4 seasons. With both winter and severe weather being passions of mine, cities like Denver, OKC or Huntsville would be fun places to get a little taste of everything.
Is there anything else you'd like to add?
The meteorological community is a tight-knit group of amazing people who are all doing this, in large part, because of their passion for weather. It's an industry that is constantly changing and evolving as we inch closer to being able to predict the weather with complete accuracy. I'm very lucky to get to play a small role in all of this and luckier still to be viewed as a source for what can be life-saving weather information. My wife Katie and our dog Bolt have been huge supporters along the way…although I'm pretty sure Bolt is only in it for the treats.
If you are interested in being a Featured Meteorologist on StormHour please contact mark@stormhour.com or via DM on Twitter