Meteorologists
Featured Meteorologist Claire Martin
Claire Martin is an award-winning TV host/presenter and a veteran of the Canadian media industry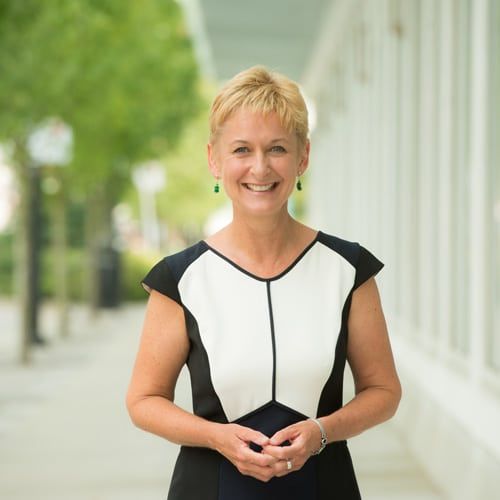 Q and A with Claire Martin – Former TV broadcaster/host. Qualified meteorologist and Manager with Environment Canada

.
Claire Martin is an award-winning TV host/presenter and a veteran of the Canadian media industry. Claire has worked in the public service, as well as on and off camera for public and private broadcasters for nearly 30 years.
You can follow Claire on Twitter here
Claire grew up in London, England (is, in fact, a true cockney) and moved to Canada in 1989. She is a niece of Barbara Edwards, who in 1974 became the BBC's first female weather
presenter in the UK.
What was your most memorable weather event?
My most memorable weather event has to be covering Hurricane Wilma in 2005. Wilma was a patience-testing-now-it's-here-now-it's-gone frustrating hurricane for those of us sent to cover it! While it battered the Yucatán Peninsula for days, it raced over the Floridian peninsula – where we all lay in wait – in about 4.5 hours! It is however the first hurricane I have covered where my water-and-sand blasted body and salt-crusted hair was relaxing in sunny, calm weather by the middle of the afternoon!
What is your favourite and least favourite type of weather?
Crepuscular rays. My grandmother was the first person to ever point them out to me – in the car one day – travelling back from Scotland – when I was very young. "Look Claire", she said, "there's heaven!". I was spell bound. To this day, the awe I feel for mother nature is encapsulated whenever I see crepuscular rays. My least favourite – BY FAR – is lightning. I jump, literally jump out of my seat when a bolt cracks close. It's the meteorological equivalent of someone bursting a balloon behind me!
If you weren't a meteorologist, what would you most likely be?
If I wasn't a meteorologist, I'd be a perfumer! Seriously! My sense of smell is by far, my most superior sense. I actually failed WSET Level 1 classes (wine tasting) some years ago, but my instructor said that my sense of smell was "exceptional"! I've often wondered if could use my nose for good in meteorological research somehow!
From a purely meteorological point of view, where would you most like to live?
Tortola in the British Virgin Islands. It's heaven there .. and the hurricanes come to you!
Is there anything else you'd like to add?
I wish there was a more effective way for us all to work together to communicate the issue of climate change better. We have not been able to pull the conversation back from the absurd rhetoric of climate deniers. The science, the data, and our understanding of the future climate scenarios is conclusive but we have yet to convey that message coherently and collectively.
If you are interested in being a Featured Meteorologist on StormHour please contact mark@stormhour.com or via DM on Twitter