Meteorologists
Featured Meteorologist Chris Murphy
Chris is a Broadcast Meteorologist on weekday mornings on The Weather Network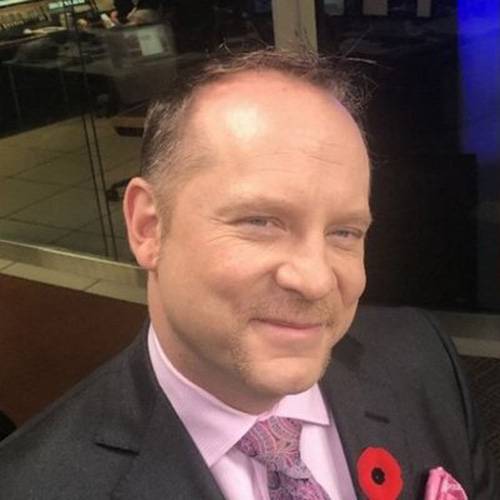 Chris is a Broadcast Meteorologist delivering weather with a side of humour and humility on weekday mornings on The Weather Network
You can follow Chris on Twitter here
What was your most memorable weather event?
My most memorable weather event would probably be Friday May 31st, 1985 as I was finishing school that day (I was in grade 8) I remember the sky being very dark, the street lights were on and there was a sense of urgency among the teachers and school bus drivers. I was in Scarborough (a suburb of Toronto), so we were very lucky, we only had some nasty thunderstorms that day, but this day would produce 14 tornadoes, including two F4 monsters that killed 12 people within an hour's drive of the family home. Seeing the images on the news about what went down gave me a new and what would turn out to be, a life long respect & fascination for the power of nature. A second event, which I attribute to being the catalyst to me applying to The Weather Network, occurred the summer of 1998 while out fishing with my boss at the time from a radio station I was working for. While out in a 14 foot aluminum tin can of a boat, I saw these crazy looking clouds I had not recognized. Anyhow, not long after, we got hit with a thunderstorm producing hail – only like dime sized, but when you are out in a boat wearing only shorts & t-shirts, with lightning flashing, thunder booming and getting pelted by hail and shore is still several minutes away…let's just say it was intense! I said to myself "never again am I getting caught in something like this" – it was soon after that I began the process of applying to The Weather Network! Those clouds by the way, I would learn later, were mammatus. Among my most favourite clouds now – especially when backlit by a sunset after a good t-storm.
What is your favourite and least favourite type of weather?
My favourite weather is a sunny day, with a few fair weather cumulus or if I am fishing, a partly to mostly cloudy day with light to no wind. I know…boooooorrrring! lol My least favourite, freezing rain. No contest here. An ice storm can knock the power out for many days, disrupt lives over a widespread area and it is so much worse than snow. I am often heard saying that I will take 30 centimeters (1 foot) of snow any day over 3 cm of ice! There are over 5 million people who live in the Greater Toronto Area and when the roads turn to ice, it is an absolute nightmare.
From a purely meteorological point of view, where would you most like to live?
From a meteorological point of view, I would love to spend a winter in St. John's, NL to experience some of those incredible winter storms, a spring in Vancouver (or California!) which enjoys mild temperatures while the rest of Canada is still feeling the lingering effects of winter, a summer in the Prairies or Plains to experience just once what baseball sized hail can do; and the fall in either Ontario, Quebec, New Brunswick or beautiful Maine because of the fall colours.
If you weren't a meteorologist what would you most like to be?
If I wasn't a meteorologist, I'd love to have my own fishing show – maybe combine my love for weather and fishing – perhaps call it "Gales & Scales" – oh great…now I just gave someone a million $ idea!! I believe that knowing how to read the clouds is every bit as important as knowing how to read the weather models & charts. The sky is a giant poker game and Mother Nature has her tells…once you learn 'em, it makes predicting her hand easier. But be forewarned…she almost always has an Ace up her sleeve, and that is what makes forecasting weather so incredible. As good as we have become, we are not 100% accurate. I have been humbled countless of times before, and will be many more times in the future too. But in meantime you can find me doing what I like best (when not on air M-F mornings), and that's looking not down at a 2″x 3″ cell phone screen, but up at the vast vista that is our sky, and trying to predict, what'll happen next.
Is there anything else you'd like to share?
I got my certification as a meteorologist at the Mississippi State University, online program (while in my 40s) as it was the only way to keep working full-time and get the required schooling. I owe my wife a great deal as she was with me through those tough years of late nights, cancelled plans and endless quizzes, tests, assignment & exams. Incidentally, there was a final exam which we had to write at the very end of the program, which encompassed material from all the courses over the 3 years and you have to get 80% or better to pass. You get 3 chances. I got 91% on my first try. I am pretty proud of this accomplishment.