Meteorologists
Featured Meteorologist Brian Bledsoe
Brian is Chief Meteorologist at KKTV 11 News in Colorado Springs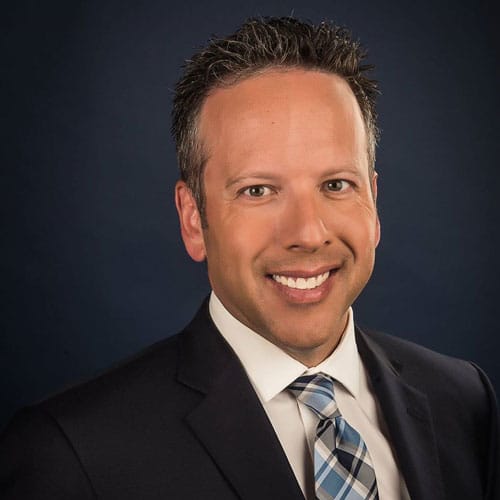 Q and A with Colorado Springs Meteorologist Brian Bledsoe
Brian is Chief Meteorologist at KKTV 11 News in Colorado Springs. He can be found breaking weather news on Twitter here or over on Facebook!
1. What was your most memorable weather event?
I have a few…
June 6th, 1990… At the time, F-3 tornado destroyed much of the town of Limon, Colorado. This event made me want to become a Meteorologist. I was 15 years old and had never seen clouds look that way before.
November 10th, 1998 – Witch of November that set all-time low pressure records across the Upper Midwest. I was in Sioux City, IA at the time, and was amazed at the line of severe thunderstorms that extended all the way to the Gulf Coast, with a blizzard behind it in the Northern Plains.
June 2012 Waldo Canyon Fire and the June 2013 Black Forest Fire. Sadly, these fires destroyed 100s of homes, and reshaped our community, but they made me a better broadcaster.
Colorado Front Range March Blizzard of 2019 "Bomb Cyclone" – I do a lot of long range forecasting, both monthly and seasonal. Was impressive how well some models latched on to the signal in the long term, and how they performed so well as the event got closer. I started talking about the potential two weeks in advance. That may be crazy to some, but the signal was so very clear that something big was going to happen…
2. What is your favourite and least favourite type of weather?
My favorite type of weather to cover is fire weather / wildfires. I know this is probably the most boring for some, but to me, nothing is more interesting than the dynamics of a major wildfire. Conveying the science to those that care, as as well as the urgency to those impacted is a balance that is challenging, and I dig it…
My least favorite type of weather is marginally severe thunderstorms. They require babysitting, time wasted, and are annoying…
3. If you weren't a meteorologist what would you most like to be?
I'd be in politics. I aspire to be Governor of Colorado one day.
4. From a purely meteorological point of view, where would you most like to live?
I would love to live along the coast in Maine. I want to experience a massive Nor'Easter…not rain, but 4″ per hour snow with hurricane force wind.
5. Is there anything else you'd like to share?
I love mentoring young talent. There isn't nearly enough of that going on in broadcasting. To be able to tap the business knowledge and the meteorological knowledge of someone in the big 20+ years, I believe is invaluable. That is something I truly love doing…
If you are interested in being a Featured Meteorologist on StormHour please contact mark@stormhour.com or via DM on Twitter