Meteorologists
Featured Meteorologist Anthony Macari
Prior to returning to Rhode Island, Anthony worked at AccuWeather in State College, PA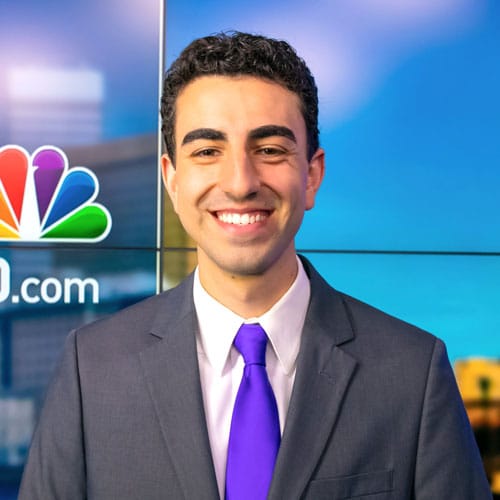 Q and A with Rhode Island Meteorologist Anthony Macari
Anthony Macari returned home to join NBC 10 in Providence, RI as a digital weather producer and meteorologist this year.
Prior to returning to Rhode Island, Anthony worked at AccuWeather in State College, PA, and as the morning meteorologist at WAGM in Presque Isle, ME. Anthony graduated from Lyndon State College (now Northern Vermont University-Lyndon) with a degree in atmospheric sciences.
You can follow Anthony at @Anthony_Macari, on Facebook at facebook.com/anthonymacariwx, or on Instagram at @anthony_macari_wx
What was your most memorable weather event?
On July 18, 2016, an EF-0 tornado touched down in Aroostook County, Maine. I was less than two months into the start of my career, filling in for the chief that afternoon. Needless to say, when I saw the Tornado Warning pop, my heart dropped. But, we were able to get on the air right away, and covered it until the warning expired. The experience certainly helped me grow in the future and learn to stay on my toes!
Aside from that, I have to give the Blizzard of 2005 and 2005 Hurricane Season credit for really sparking my interest in weather.
What is your favourite and least favourite type of weather?
My favorite has to be heavy snow events! Difficult to forecast, and as a snowmobiler, they provide recreation as well. Least favorite would be hot and humid weather. Unless there's thunderstorms involved, which makes things much more exciting.
If you weren't a meteorologist what would you most like to be?
I would have tried to become an electrician to follow in my father's footsteps or a State Trooper because of how much I respect the job law enforcement does. However, I don't think I'm cut out for either!
From a purely meteorological point of view, where would you most like to live?
I know it's cliché, but I'd prefer to live where I am now, in Southern New England. We have four defined seasons, which helps mix things up around the year! Nothing like tracking tropical weather and severe thunderstorms in the summer to nor'easters in the winter.
Is there anything else you'd like to share?
It's been a dream come true to work in this industry, and it's wonderful to see how many people are out there willing to help you achieve your goals. I hope to return the favor, and would be happy to speak to anyone who I can help.
If you are interested in being a Featured Meteorologist on StormHour please contact mark@stormhour.com or via DM on Twitter