Meteorologists
Featured Meteorologist Andrew Adams
Andrew is a meteorologist at News9 in Oklahoma City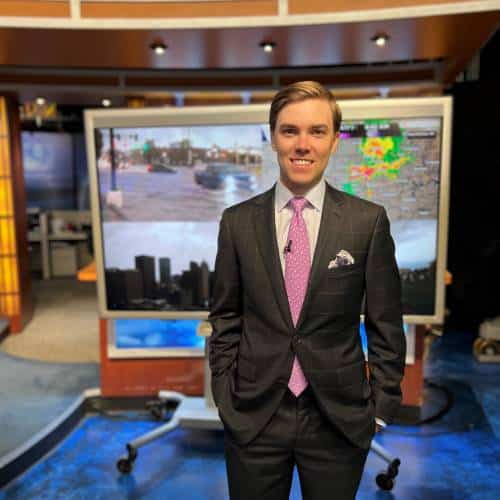 Q and A with Meteorologist Andrew Adams

Andrew is a meteorologist at News9 in Oklahoma City. He joined the News9 team in November of 2021. His passion for weather really blossomed on his journey to Eagle Scout; the first merit badge he earned was Weather merit badge! He graduated from the University of Oklahoma in 2018. From there, he spent a year forecasting in Northeast Kansas and two years in Southwest Florida. You can follow Andrew on Twitter and on Facebook
What was your most memorable weather event?
I will never forget the March 28th, 2000, EF-3 tornado that tore through Fort Worth. The tornado touched down a couple of miles from the house I grew up in as a child. It eventually moved straight through Downtown Fort Worth. I'll never forget how the sky looked during the storm and the damaged skyscrapers after the tornado. I was five years old at the time, and this tornado really sparked the weather itch in me.
What is your favourite and least favourite type of weather?
My favorite has to be springtime severe weather. I love forecasting it. I love the feeling of the humid air before an event and then the comfortable, dry air behind the dry line. Nothing quite matches the beauty of a 60,000 ft supercell hovering over the Great Plains! I'll also give hurricanes a nod (when they are over the open ocean). IR Satellite imagery of tropical systems has a remarkable beauty to it.
My least favorite has to be ice… it just makes everything a big pain. At least you can have a little fun when snow shuts things down.
If you weren't a meteorologist, what would you most like to be?
This is a hard one to answer because, for so much of my life, meteorology has been the goal. I am pretty fascinated with energy, whether fossil fuels, renewables, nuclear, you name it… energy is something we need. Advancements in energy brought civilization to the first world, so something in discovery or management would be really cool! Maybe one day, someone will crack fusion.
From a purely meteorological point of view, where would you most like to live?
OKC has everything I love wrapped up in a nice package! I get my summer months, a noticeable fall swing that includes its own mini severe weather season. I get winter, which I really enjoy. Most importantly, I get one of the most exciting spring-severe weather seasons on the planet. I think a quick runner-up would be living in the Colorado Rockies. Skiing is my favorite pastime when I'm able to do it.
Is there anything else you'd like to share?
I think one of the best joys in life is getting out and doing something new. Whether it's as simple as going to a park in town you've never been to or something more like driving to a State Park that's within reach. In the age of social media and technology that often has us looking at screens, there's something invaluable about looking outside.