Meteorologists
Featured Meteorologist Alana Brophy
Alana is a Meteorologist for ABC4 News in Utah with an Emmy award-winning news anchor/reporting past.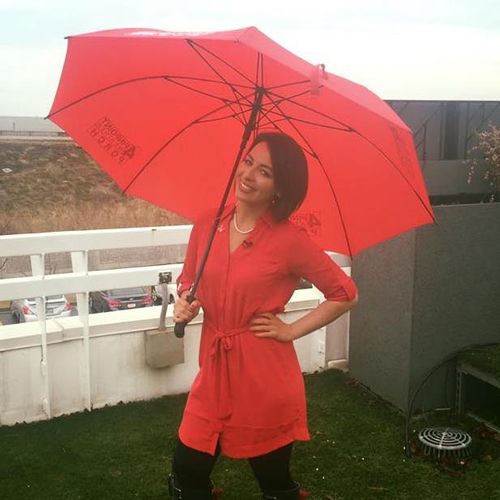 Q and A with Emmy Award Winning Meteorologist Alana Brophy from Salt Lake City.
Alana is a Meteorologist for ABC4 News in Utah with an Emmy award-winning news anchor/reporting past.
You can follow Alana on Twitter or  if you prefer on Facebook
What was your most memorable weather event?
I've been so lucky to live in different climates. I've lived on Staten Island, New York, parts of the Pacific NW and both defined Utah climates between the North and South. My family traveled growing up and we would frequently drive cross country in the summer, so I've been lucky to experience a variety of weather events. I find severe thunderstorms fascinating, sought shelter during a tornado, reported on record breaking snow—but my most memorable weather event was early in my career, a freezing rain event in Boise, Idaho. It was rare, and I was working mornings, and on my way in at 3am, I remember my windshield wipers immediately freezing, my car dangerously skidding and calling the producer to say, no questions asked, we are LEADING with weather! It was incredible to watch the rain hit subfreezing surfaces and the best reminder of how the weather impacts us all.
What's your least favorite weather event?
I don't appreciate any severe event that claims a life, especially since we have science, knowledge and advanced communication. My heart breaks those killed due to a weather event.
Personally, I can't stand wind wind events. The wind is only a friend to few and can often aggravate fire danger, complicate winter storms, become destructive during a thunderstorm, make temperatures feel colder than they actually are, and the wind never is a friend to your hair or dog walk!
If you weren't a meteorologist, what would you most likely be?
I love to piece things together, so I would either be a detective or an FBI agent.
From a purely meteorological point of view, where would you most like to live?
I actually love living in Northern Utah, four seasons always keeps it fresh with a few extremes thrown in there, but I wouldn't mind doing some storm chasing in the Midwest, get a taste of Alaska or the SE United States for hurricane coverage.
Is there anything else you'd like to add?
My parents were married in a hurricane, so I am pretty sure that's one of the reasons they ended up with a meteorologist child!
If you are interested in being a Featured Meteorologist on StormHour please contact mark@stormhour.com or via DM on Twitter