Meteorologists
Featured Meteorologist Devon Lucie
Devon is a meteorologist for ABC4Utah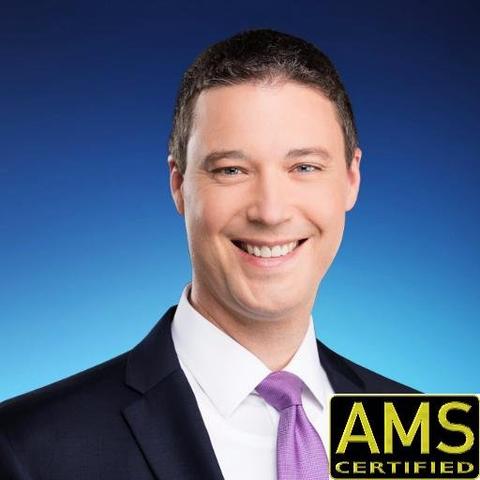 Q and A with Devon Lucie, ABC4Utah Meteorologist based in Salt Lake City, Utah.
Devon Lucie – Salt Lake City, UT.
Devon is a meteorologist for ABC4Utah. Originally from Western Illinois, his many travels have eventually landed him in Salt Lake City!
Question 1. What was your most memorable weather event?
My most memorable weather event is still the May 3rd, 1999 Bridge Creek/Moore tornado. I was in college at the University of Oklahoma where the Oklahoma Weather Center had not been built yet, so the school of meteorology was located on the top floors of Sarkey's Engery Center. It was finals week and I needed to study instead of tornado chasing on that epic day. When the tornado roared through Moore, a group of us was able to see the tornado cross over I-15 and continue right on through the central city of Moore as it was a massive cloud/debris wrapped cyclone only visible through the transformer flashes. For several people in that group it was the first tornado that they had even seen and they were so excited. I was excited too, but had to remind them (and from my memory I as a little harsh in doing so) that as it crossed over the interstate it most likely had taken some lives and in fact it did, killing a woman seeking shelter underneath the interstate overpass. That is also the same tornado that holds the record for recording the fastest wind speed on earth on the order of 300 mph as detected by a Doppler on Wheels (DOW).
Question 2. What is your favourite and least favourite type of weather?
My favorite type of weather is severe weather. Not for the terrible danger is possesses, but for the environment it takes to create these storms which is mostly unique to the Central portions of the U.S. I would also have to say big snow storms are my second most favorite type of weather, but it's also my least favorite if it causes changes to my schedule or I have to shovel several feet of it. I really hate cold weather too. Yuck!
Question 3. If you weren't a meteorologist what would you most like to be?
If I wasn't a meteorologist, I'd most likely be a chef. Cooking is also quite a passion for me and I was just able to finalize my own customized kitchen in a new house I'll be moving into with my wife and two children this summer, so I'm very excited about that!
Question 4. From a purely meteorological point of view, where would you most like to live?
From a pure meteorological point of view, I'd love to move back to Kansas City where the city is great but you get every single weather case you can have. From severe weather, to winter storms it's got probably some of the most diverse weather you can have in the world!
Question 5. Is there anything else you'd like to share?
I've loved weather from ever since I was a kid. When I was 5 I went as a walking tornado for Halloween! I've moved around and worked in several different cities and still have the passion for striving to provide the best forecast one can find for the market. Be sure to follow me on Twitter and Facebook  to share any interesting weather or pictures so I can share it with my audience as well! Thanks so much Stormhour for the feature!
If you are interested in being a Featured Meteorologist on StormHour please contact mark @ stormhour.com or via DM on Twitter