News
9 Things We Love This Week
This week we have icebergs, falling trees and stunning sunsets!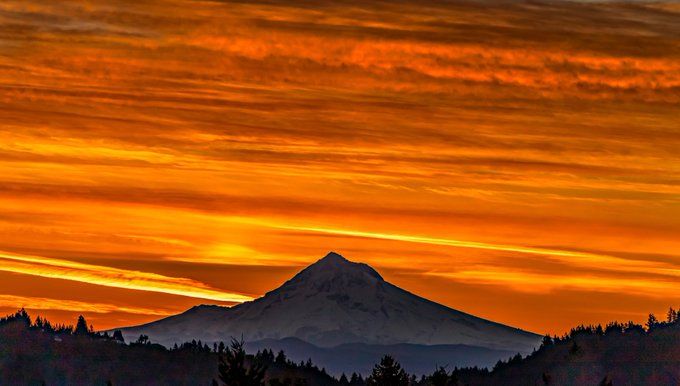 This incredible shot from the summit of Mount Everest is two years old, but we've included it as it has been doing the rounds on Twitter this week. And we think it's great!
Checkout 360-degree view from the summit of Mt #Everest (8848.86 m) on 12th May 2021. Video ©: Gao Li. pic.twitter.com/MlDuiEVUuX

— Everest Today (@EverestToday) April 11, 2023
Timber! Fortunately, nobody was hurt but definitely a close shave.
Trees fall at the Masters. Three separate trees near the 16th green and 17th tee fall avoiding hitting any patrons. pic.twitter.com/6AYZD8iB6x

— celticlegend (@celticlegend7) April 8, 2023
An iceberg, just casually bobbing about in the surf near the shoreline.
The iceberg is about to flip over or crack apart. Either way, it will make waves and probably be very loud. #IceBerg #Newfoundland #PouchCove pic.twitter.com/yG5A8iajqB

— Jan 💭 (@GirlOnAnIsland) April 9, 2023
Keeping up with the sheep!
Bank holiday rush hour . Farmers style 😜 pic.twitter.com/jWqurksyGh

— Gareth Wyn Jones (@1GarethWynJones) April 10, 2023
Stunning capture of a storm cell near Merkel
Insane look from Merkel. #txwx pic.twitter.com/qBQTgTUYOT

— Chad Casey (@WxFanaticCC) April 10, 2023
Lenticular clouds are simply magnificent.
Another gorgeous view of the lenticular clouds above Mt. Shasta today taken along the Ski Park Highway. 🏔️ #CAwx #StormWatch12

📸: Robin Kohn pic.twitter.com/rn8oucpaer

— Matt Hoffman (@matthoffmanwx) April 11, 2023
Sunrise over Mount Hood, one of our favourite mountains on Twitter!
Wy'east sunrise #mthood #mountainmonday pic.twitter.com/4m2FDrGKA3

— FreyFotos 🇺🇦 (@FreyFotos) April 10, 2023
Timelapse of an Oklahoman storm.
Check out this cool time lapse of a storm approaching our Mangum site yesterday (Sunday, April 9)!! Taken by Oklahoma Mesonet technician Steven Thompson. #okwx #okmesonet pic.twitter.com/e73jKKcdwC

— Oklahoma Mesonet (@okmesonet) April 10, 2023
Winter still has a sting in its tail, as April snow falls on Hadrian's Wall.
It's snowing on #hadrianswall #nationaltrail pic.twitter.com/4RgupGjgOq

— HADRIAN'S WALL PATH (@HWpath) April 12, 2023