News
Weather Photographer of the Year 2021: Meet the Experts
Weather Photographer of the Year 2021 Meet the Experts.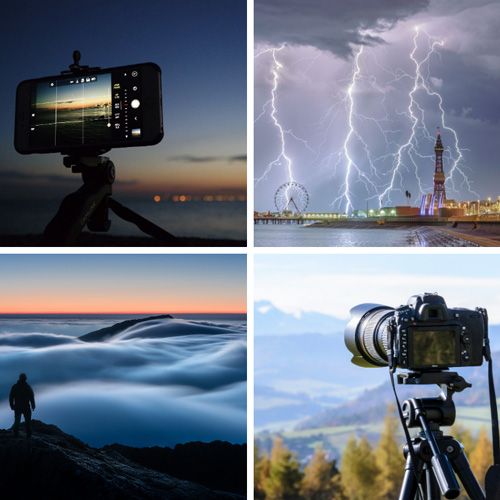 PRESS RELEASE – 23 February 2021
FREE VIRTUAL EVENT
Weather Photographer of the Year: Meet the Experts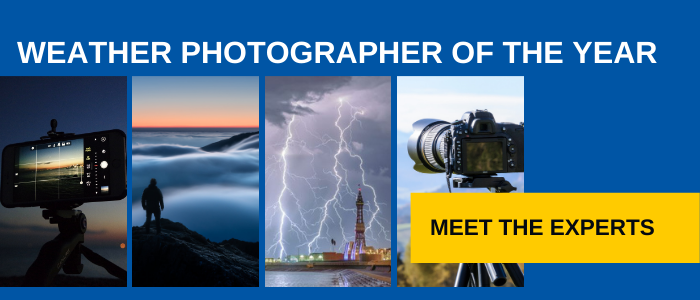 The Royal Meteorological Society, in association with AccuWeather, is hosting an exclusive FREE virtual event on Thursday 25 March 6-7pm (GMT) ahead of launching this year's Weather Photographer of the Year competition at the end of April.
A panel of professional photographers, previous winners, meteorologists and competition judges will spill the secrets on what makes a great weather photo, knowing the weather and getting the best out of your camera equipment.
This event aims to help the audience understand how to create impressive photos that stand out in a popular global competition. As well as how to plan for a great photo opportunity by understanding the weather with practical tips and tricks.
Previous winners will also talk about how entering the competition has made a real impact on their lives and what has happened to them since winning.
This year's Weather Photographer of the Year competition, in association with AccuWeather, will be introducing a mobile phone category alongside the main and youth categories to encourage entries from anyone with an enthusiasm for weather and photography to enter on a level playing field. The competition also remains FREE to enter and accessible to all.
This event is ideal for anyone with an interest in photography and who may be considering entering the competition when it opens at the end of April. It's also a chance to ask questions directly to the panellists yourself or listen to the answers they give to other participants.
Registration for the event is now open at rmets.org/wpotyexperts21
The panellists
Panel Chair: Prof Liz Bentley – Royal Meteorological Society Chief Executive
Jo Bradford: an award-winning photographer with a large and loyal following on Instagram as @greenislandstudios
Jo has developed a unique collection of workshops and courses in smartphone photography, ranging from beginner's sessions to masterclasses, which she also delivers for the Royal Photographic Society. Jo works as an Associate Lecture at Falmouth University where she lectures on the BA Marine and Natural History Photography degree.
Jo is the best-selling author of 'Smart Phone Smart Photography' and her exciting new book on mobile editing, 'Smart Phone Smart Photo Editing' (which is now available for pre order) will publish in autumn 2021.
Stephen Cheatley: 2018 Weather Photographer of the Year winner
When he captured lightning strikes crashing down over his hometown of Blackpool in the summer of 2015 the picture went viral, appearing in most major newspapers. Lightning storms with the intensity of the one he captured are extremely rare in this part of the world, which makes the shot even more remarkable. The shot is now firmly a part of Stephen's history which he will talk about as long as he lives.
After winning the RMetS Weather Photographer award in 2018, a competition which he helped judge the following year, he decided to take up professional photography full time after 20 years self-employed in the landscaping business.
Gareth Mon Jones: 2019 Weather Photographer of the Year winner
A photographer based on Anglesey with a huge passion for landscape and Astrophotography. Gareth was 34 years old when he picked up his first camera and his passion for capturing nature in its elements will never leave him.
Gareth's work has been published in several photographic magazines and his experience in astrophotography has led to some TV features with the BBC, ITV and S4C, which he has found very rewarding in boosting his self-confidence. In 2017, one of his photos featured in the BBC Countryfile calendar and shortly after he received a photographic award for Outdoor Photo of the Year in 2018. His biggest and proudest accolade in photography was winning the prestigious 2019 Weather Photographer of the Year.
Jesse Ferrell: Weather Photographer of the Year judge and Social Media Manager for AccuWeather.
As Social Media Manager for AccuWeather, as well as a meteorologist and meteorological blogger and photography enthusiast, Jesse creates highly engaging posts that serve as a touchpoint for millions of people. In 2005 he became the first accuweather.com blogger during Hurricane Katrina and remains an active author for weather blogs today.
Before joining AccuWeather, Jesse developed an online group of weather enthusiasts and reporters, WeatherMatrix, where he served as founder and president for almost a decade.
Jesse earned his BSc in Meteorology from the University of North Carolina at Asheville. In his spare time Jesse enjoys chasing storms, photographing weather conditions and spending time with his family. Jesse can be found at @WeatherMatrix on Social Media.
Mark Boardman: creator of StormHour, a community of weather fans and photographers.
Mark runs a successful weekly weather photo competition, with thousands of followers, in association with the Royal Meteorological Society and was a finalist in the 2016 Weather Photographer of the Year competition. Mark was also part of the judging panel for last year's competition.
Mike Betts: CEO and Co-founder of Photocrowd.com
Mike worked as a photographer for many years in London and set Photocrowd up in 2012 as a place where photographers could enter some of the best photo contests and awards around, and get inspiration from each other, and from top professional photographers.
The site gets over 100,000 visitors a month and is proud to be working with the Society on this fabulous photography awards that is going from strength to strength.
For media enquiries, please contact Melissa Gerbaldi, Communications Manager (Royal Meteorological Society) on melissa.gerbaldi@rmets.org or +44 (0)118 208 0483.
For media enquiries relating to AccuWeather, please contact:
Rhonda Seaton: +1 310.508.0799 (M) or Bill Bagley: +1 781.530.6863 (M). Email: pr@accuweather.com
Notes to Editors
About RMetS
The Royal Meteorological Society (RMetS) is the leading independent expert in weather and climate.
It plays a key role as the custodian of both the science and the profession of meteorology in the UK and has an important role to play internationally as one of the world's largest meteorological societies. The Society is owned by its membership but exists for the benefit of all. Programmes of work are broad and diverse, with activities and events held for members, the general public, educators, policy and decision makers and the wider meteorological and climate community.
To find out more about the Royal Meteorological Society, discover a wealth of weather and climate resources and to become a member, please visit: rmets.org
About AccuWeather
AccuWeather, recognized and documented as the most accurate source of weather forecasts and warnings in the world, has saved tens of thousands of lives, prevented hundreds of thousands of injuries and tens of billions of dollars in property damage. With global headquarters in State College, PA and other offices around the world, AccuWeather serves more than 1.5 billion people daily to help them plan their lives and get more out of their day through digital media properties, such as AccuWeather.com and mobile, as well as radio, television, newspapers, and the 24/7 AccuWeather Network channel. Additionally, AccuWeather produces and distributes news, weather content, and video for more than 180,000 third-party websites. Among AccuWeather's many innovative and award-winning features available free to the public are MinuteCast® Minute by Minute™ forecasts with Superior Accuracy™. Furthermore, AccuWeather serves more than half of Fortune 500 companies and thousands of businesses globally.
Dr. Joel N. Myers, Founder and Chief Executive Officer, established AccuWeather in 1962 and is considered the "father of modern commercial meteorology." Dr. Myers, a leading creative thinker and visionary, has been named "the most accurate man in weather" by The New York Times and one of the top entrepreneurs in American history by Entrepreneur's Encyclopedia of Entrepreneurs.
AccuWeather, RealFeel, RealFeel Shade, WinterCast, and MinuteCast are all registered trademarks of AccuWeather, Inc. AccuWeather RealFeel Temperature, AccuWeatherIQ, AccuWeather RealImpact, AccuWeather RI, AccuWeather MinuteCast, AccuWeather Network, Minute by Minute and Superior Accuracy are all trademarks of AccuWeather, Inc. All other trademarks, product names and logos are the property of their respective owners.
The AccuWeather app for Android phone and tablet users is free at the Google Play store. The
AccuWeather iOS app is free at www.AppStore.com. Visit accuweather.com for additional information.