News
Tips On Weather Photography
This article was originally published on weloveweather.tv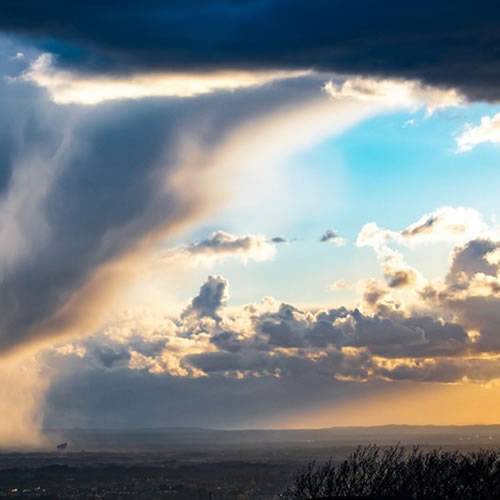 (Article originally published on weloveweather.tv)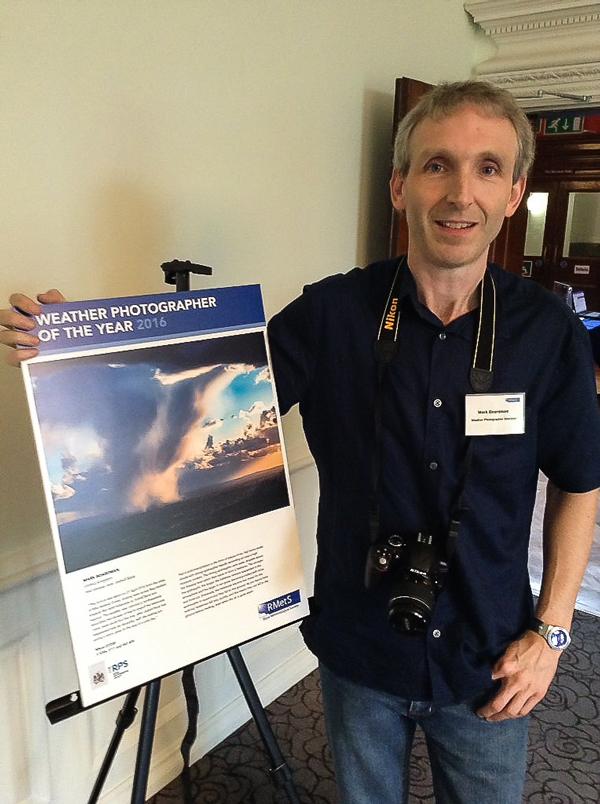 a. Where do you live?
I'm from Macclesfield in North West England, nestled in the foothills of the Pennines.
c. Are you a weather photographer full time or is it a hobby?
Although I take on paid assignments, I consider myself an enthusiastic amateur.
d. Do you teach others how to photograph weather?
Not knowingly; I'm too busy taking my own photographs to be too fussed about what others are up to
e. Do you have any other hobbies (either that do or do not involve weather)?
I walk a lot, I play football a lot and I read a lot!
1. How did you discover We Love Weather?
I've had weather alerts set up via Google for years (I recommend everyone does this, you catch all the breaking weather stories as they happen) and TWC and We Love Weather are popping up there regularly. So I have been aware of We Love Weather for several years.
2. Fill us in on your journey to becoming a weather photographer.
It's fair to say I've had a lifetime fascination with the weather. As a child, the first thing I'd do on waking up is go to the window and look at the weather. From autumn to spring each year I'd look out each day expecting to see snow (some winters we would have no snow, so you can see what a futile exercise this was)I've always had a tendency to look up rather than forwards (unless crossing roads, rivers or railways) and still do. Some weather phenomena can be very fleeting so it's good to be ready. During a recent football game, I stopped midway through the 2nd half to grab my camera…I'd spotted a sun halo!
3. What about the weather, in particular, captures your interest?
I like the variety it throws at you. Even in our relatively benign British climate which lacks the extremes of hot and cold, with fewer heavy snow fall events, or destructive tornadoes and hurricanes, there is a wealth of photographic opportunities every day.
This Mammatus cloud presented itself while I was having a cup of tea and a pork pie at a friend's house in Manchester. A rare cloud in this part of the world, so I was more than happy to snap it.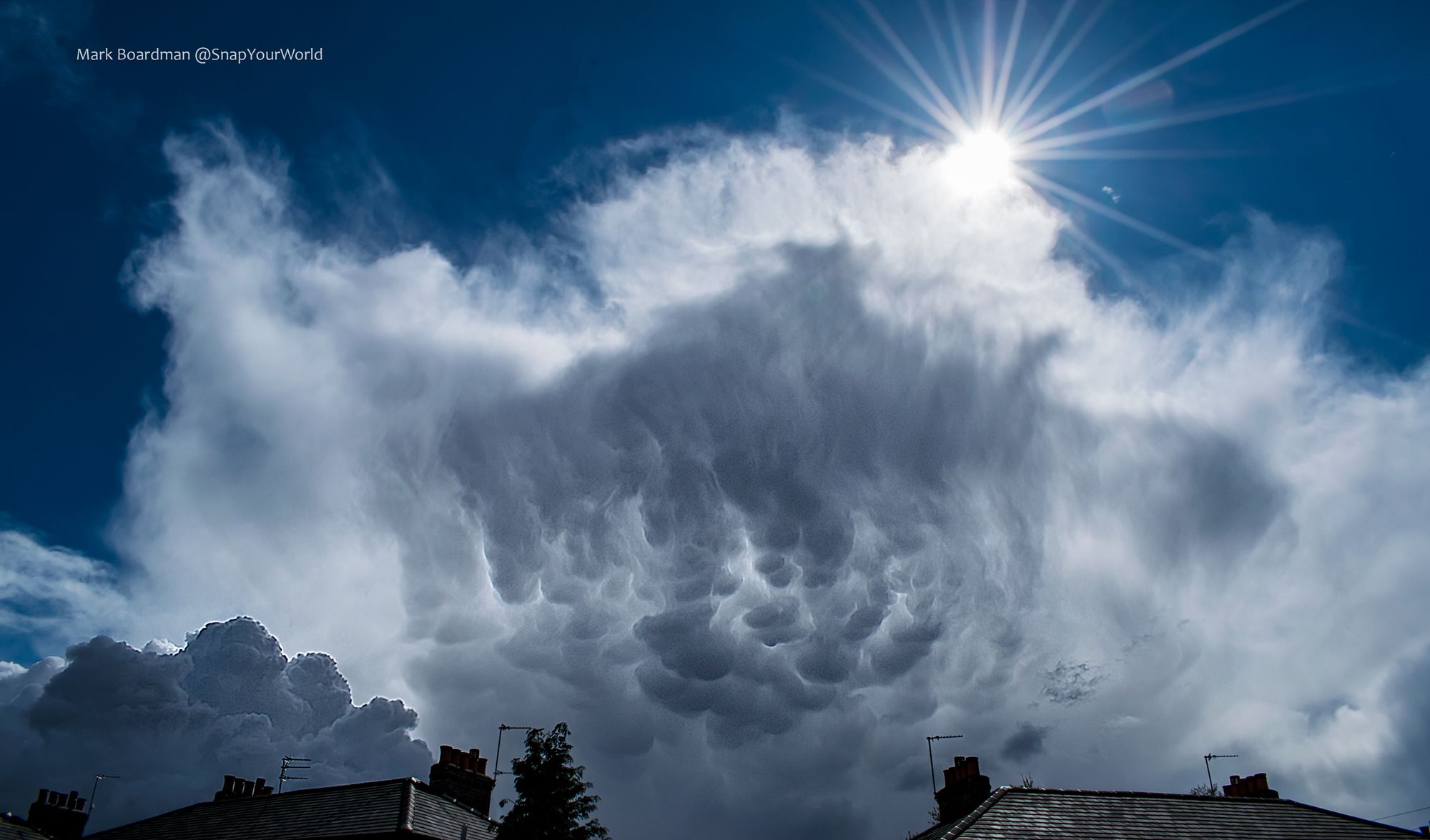 4. How do you choose your locations for photos?
Do you heavily research before going somewhere or do you go wherever you feel like?All the photographs shown in this article are taken within 30 minutes of my home. And this is what I want to get across, you don't need to be a globetrotting storm chaser to capture great weather photos, just have an eye for it, patience and be constantly ready to take a picture! I keep an eye on sunrise and sunset times as the light can be great.
5. What are the main factors to consider when trying to get "the perfect shot"?
I think composition is very important. There are so many technical aspects you could learn, I would always start with composition. Have a look online or buy a book, but learn about composition!
The picture below was nominated for the World Weather Photograph of the year in 2016
It is a late evening hail shower over Jodrell Bank Observatory. For composition, I wanted to give a sense of scale, and placing the relatively small telescope next to the massive size of the small hail shower really did this. I also had to be patient and catch the shower just at the right time. I took maybe 20 photos in the space of ten minutes.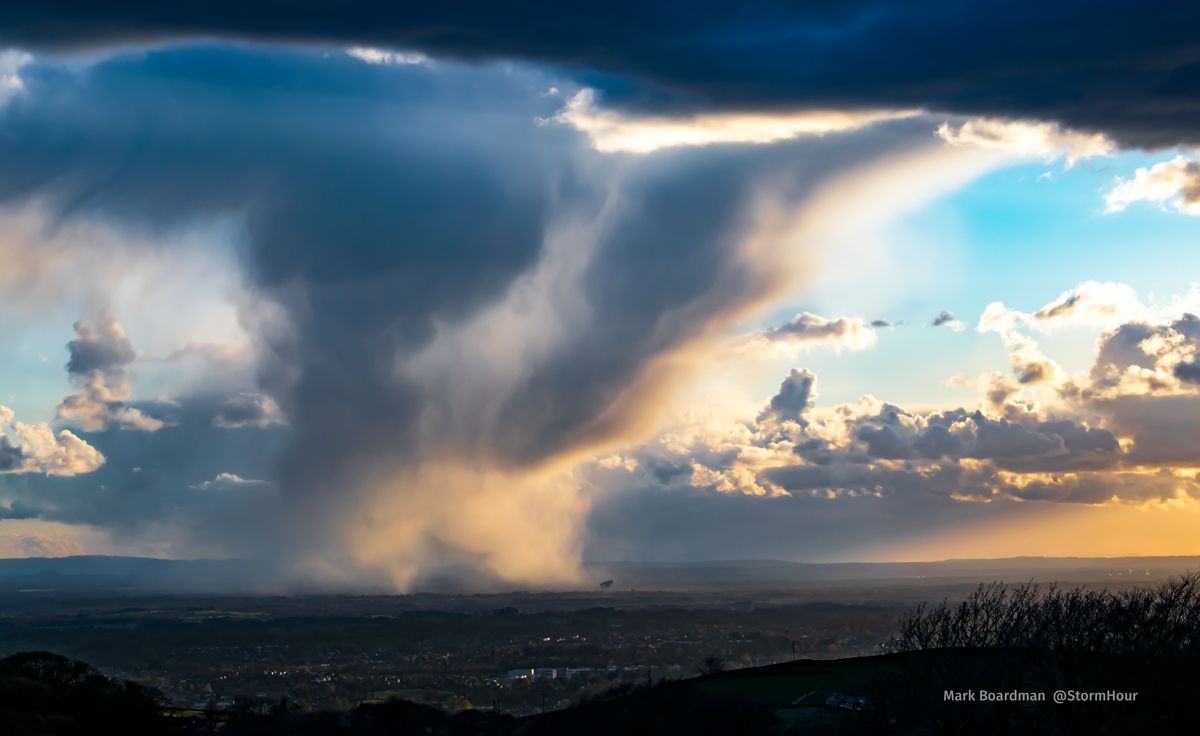 (In the interests of full disclosure, I didn't win the competition, but my image did make it into the Royal Meteorological 2017 calendar. I'm 'May'. So if you like your pin-ups with a radio-telescope in them, as I do, then go and get yourself a copy)
So take some time to learn more about composition (eg Rule of thirds, lead-in lines, frames within frames) as this will help take your photography to the next level.
6. Do you prefer taking weather photos at a certain time of day?
The light is definitely better at sunrise and sunset. Personally, I prefer sunset because the Pennine hills are to the east of me, and therefore, I can get better sunset photographs over to the west from the high ground. Having said that, light can be good any time of the day…again it can simply come down to composition.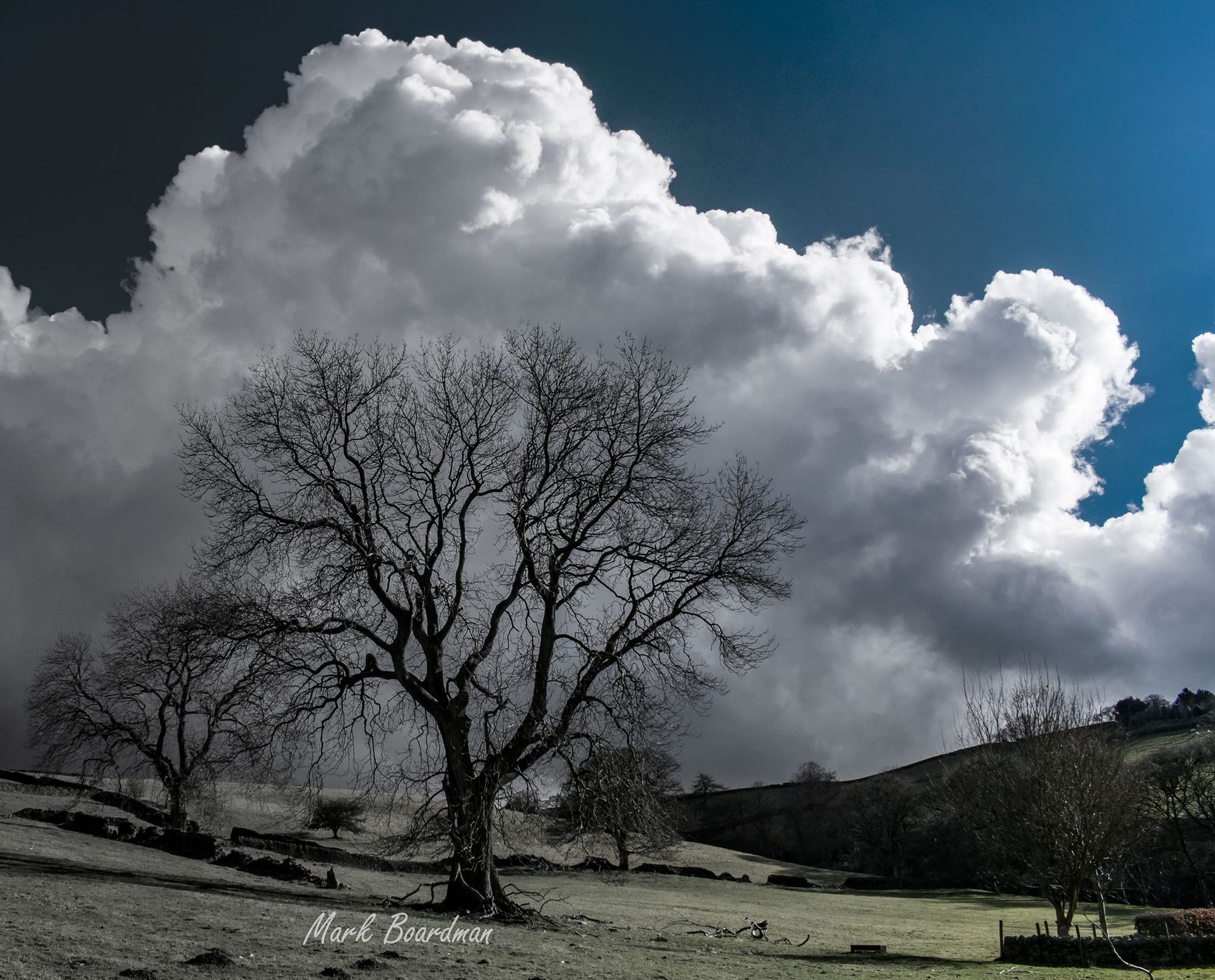 This photograph was taken in the middle of the day of a random tree I walk past several times a month. What caught my eye was the convective cloud behind, which framed the tree perfectly.
7. What camera and equipment do you use and recommend?
The technology in cameras has come on so much that you can take high-quality photographs with a phone. Having said that, a DSLR camera is highly recommended as you have full control over your settings. Some photographers tend to stick with one manufacturer, but I'm not so fussy. I have a Nikon D3300 DSLR, an Olympus TG-4 and an old Canon Bridge! (The Bridge doesn't get used so much these days, but I still love it for sunsets)

My personal favourite for photographing bad weather is the TG-4. It's waterproof (very important in a snow storm or downpour), shoots in RAW which captures as much information as a DSLR and, if I ever feel the need, I can drop it from a height of 7 feet and it will still function. So far I haven't felt the need.I'd also recommend investing in a sturdy tripod and shutter release cable. These together will dramatically reduce even the tiniest amount of camera shake.
8. Have you ever been in danger when photographing the weather?
No, never. (Maybe from my footballing teammates – as mentioned earlier)
9. What's your favourite type of weather to photograph?
Because we get so little of it, I love photographing the snow. Up in Macclesfield Forest a combination of mist and snow are the ideal conditions. There is a definite atmosphere about the place, only enhanced in these conditions.This photo was taken soon after dawn, the light snow had just stopped and the mist made the forest perfect for photography.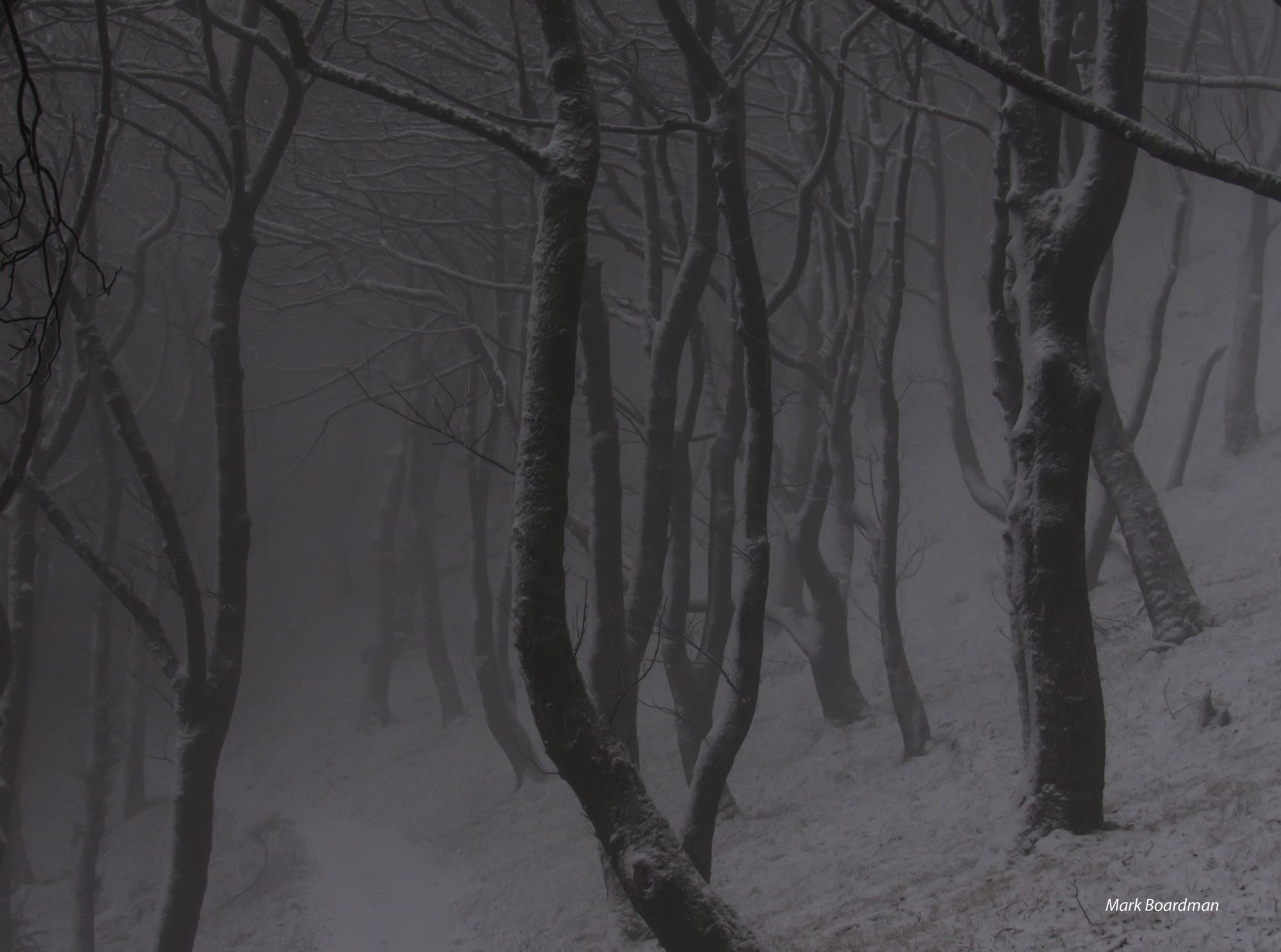 10. Do you have a favourite weather photo you've taken?
That's a tough one! Probably Jodrell Bank Hail Shower (as mentioned earlier) was nominated for Weather Photograph of the year as that received the most coverage. Having said that, I really enjoyed taking the photo of the Blood Moon in September 2015 as it was such a rare occurrence (the next one in 2033!).
That image became the logo for @StormHour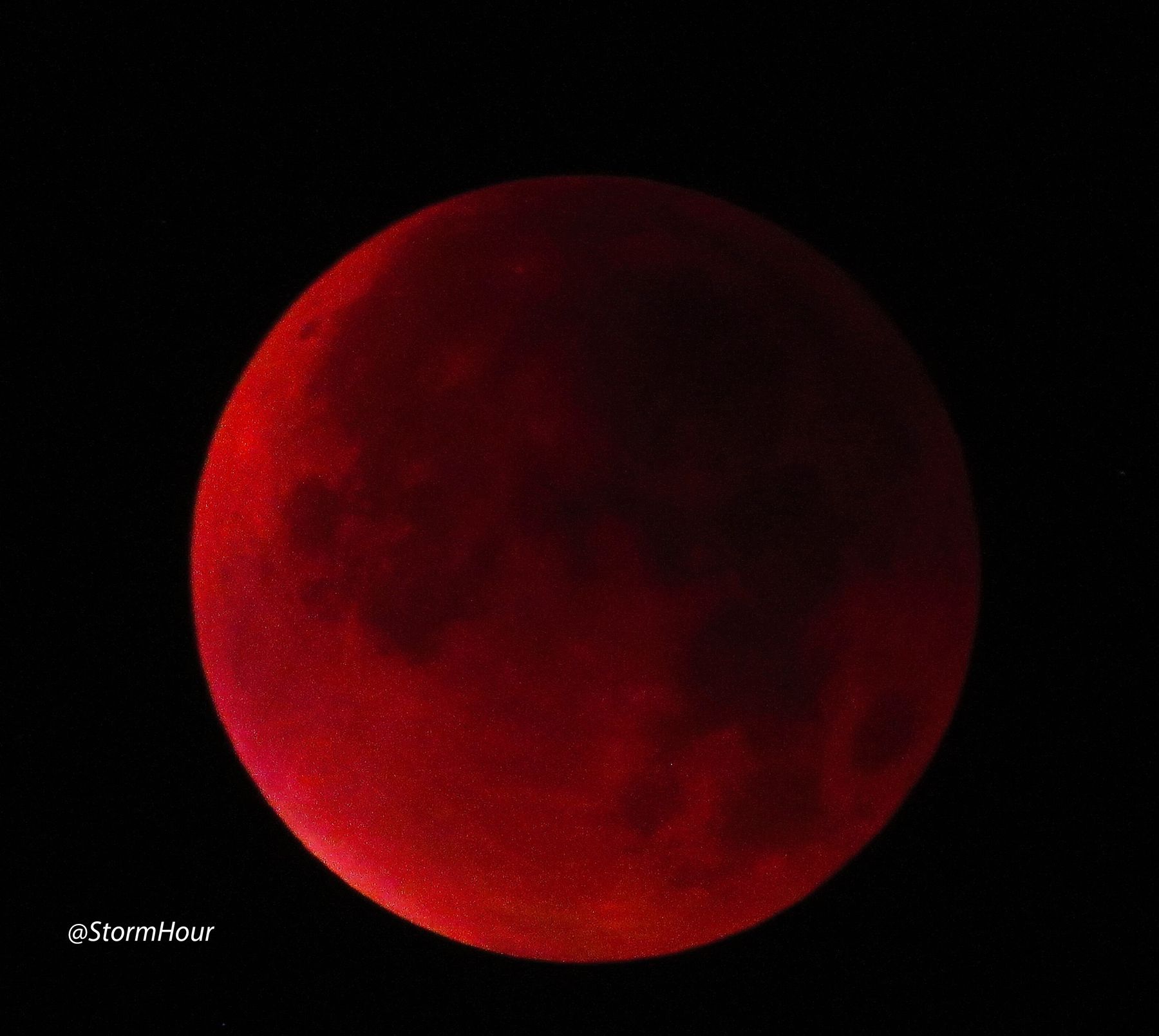 However, it took a lot of patience to get just the right shot…as this small sample of failed efforts below demonstrates!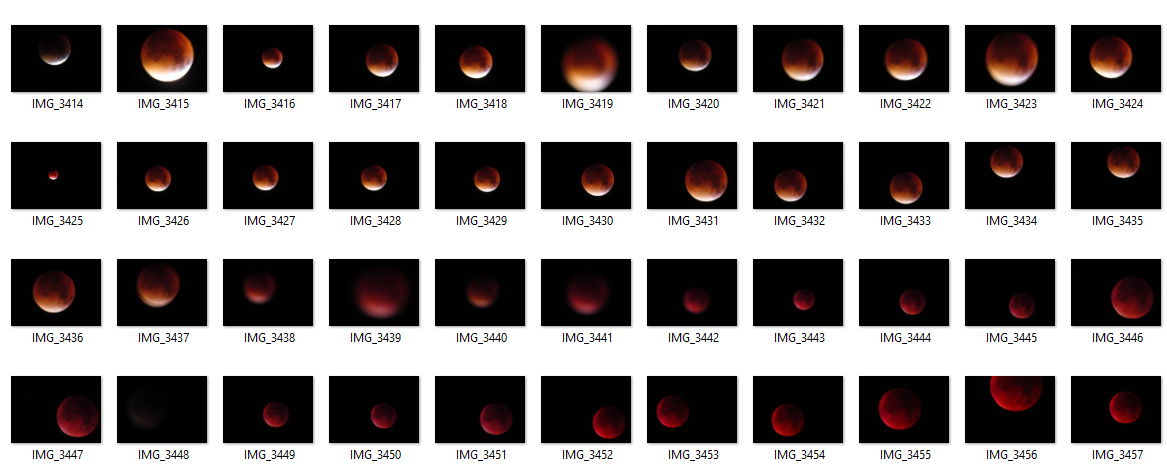 11. Do you have any advice for amateur weather photographers?
Always take a camera with you…always! You just never know when the weather may take a turn for the worse or, the better. Think about composition more than anything, and be patient. A flask of coffee isn't a bad idea, either.
Also, I highly recommend entering the @StormHour photo of the week competition. Lots of exposure for amateur weather photographers!