Meteorologists
Featured Meteorologist Rebecca Schuld
Rebecca is an AMS sealed Meteorologist at WDJT CBS58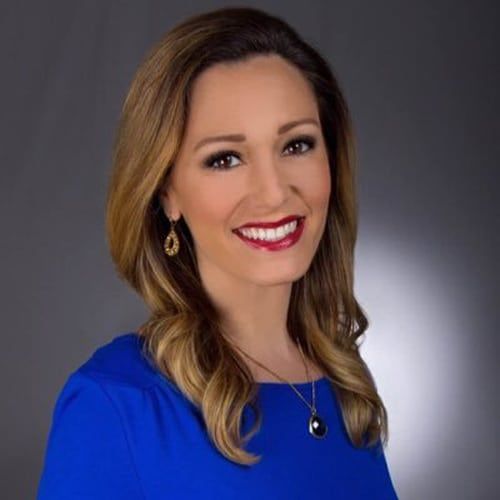 Q and A with Meteorologist Rebecca Schuld from Milwaukee, WI
Rebecca is an AMS sealed Meteorologist at WDJT CBS58 and has been awarded Awarded The Wisconsin Broadcasters Association Best Weathercast
You can follow Rebecca on Twitter here or alternatively over on Facebook
What was your most memorable weather event?
I could provide storm days and long evenings in the office but …Most memorable weather event was simply the time I was live along the beach in Milwaukee IN February. It was packed with people enjoying 70 degree heat, something that NEVER happened in Milwaukee. It was the one and only time we enjoyed mild 70s not only in February but our entire Meteorological Winter per records that go back to the 1880s. We hit 71 degrees on the 22nd of Feb in 2017. (You would have to live in a cold area to really appreciate how unreal that was!) The other opposite end of the spectrum was our extreme cold outbreak just this year. January 31st dropped to -23 degrees (actual air temp) The coldest ever in Milwaukee was -26 so it definitely rivalled coldest air we've ever experienced here. Trying breathing that air in!
What is your favourite and least favourite type of weather?
My favorite weather is desert heat. I love the intense but DRY air. My least favorite weather is after our long winter…. The spring, thanks to Lake Michigan is cold and lasts FOREVER. The lake breeze sends chills up your spine all the way through June. I was wearing a jacket gloves and a hat at an outdoor event in Chicago on June 16th! That's enough to make a person back their bags and head south in search of a warmer climate!
If you weren't a meteorologist what would you most like to be?
I have a degree in Plant biology as well so I would love to lose the dress and makeup and have a farm… tree farm, cherry farm.. something outdoors and all about nature.
From a purely meteorological point of view, where would you most like to live?
Is that even a question?! San Diego! But in all seriousness, I love having the desert, valley, mountains and ocean all within close distance.
If you are interested in being a Featured Meteorologist on StormHour please contact mark@stormhour.com or via DM on Twitter