Meteorologists
Featured Meteorologist Matt Hoenig
Matt is a Meteorologist at CBS 13 News in Portland ME.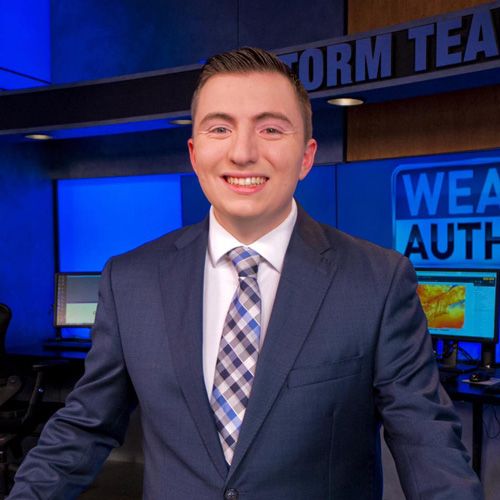 Q and A with Featured Meteorologist Matt Hoenig
Matt is a Meteorologist at CBS 13 News in Portland ME. Matt joined the WGME/WPFO weather team in July 2020. Born and raised just outside of Boston, Matt had an interest in meteorology as early as pre-school. Classic New England nor'easters and severe weather fueled his interest growing up. You can read Matt's full bio here
You can catch up with Matt on Twitter or check out his Facebook page.
What was your most memorable weather event?
It was back in July of 2012. I was vacationing with my family on a lake in New Hampshire. We were watching a line of severe thunderstorms roll in across the lake. Right along the leading edge, we saw a quick spin-up tornado touch down on the lake. It came ashore probably no more than 100 yards from where we stayed and dissipated in the woods across the road. Truly a right place, right time weather event, and still the only tornado I've ever seen!
What is your favourite and least favourite type of weather?
Growing up in New England, I was always fascinated by the big winter storms and blizzards we would get in the winter. To this day, snow is still my favorite weather. Thunderstorms are probably a close second. My least favorite type of weather is a cold rain. It literally puts me in a bad mood!
If you weren't a meteorologist, what would you most like to be?
This is a very hard question for me to answer. I've never really imagined anything outside of weather and meteorology. I think I would want a career where I could help people. I could see myself being a teacher in a parallel universe.
From a purely meteorological point of view, where would you most like to live?
I'm so lucky and grateful to be forecasting the weather in Maine and New Hampshire. This is exactly where I want to live. I truly believe there is no better place for a weather geek like me than New England since it's always changing and it's so diverse!
Is there anything else you'd like to share?
Since the start of the COVID pandemic, I've started to really focus on the simple and positive things that life has to offer. I've grown to love the outdoors and have made a push to see new things. As of 2022, I'm working on several hiking lists in New England! If anyone has any suggestions on beautiful places to see and/or hike to, please let me know!
If you are interested in being a Featured Meteorologist on StormHour, please contact mark @ stormhour.com or via DM on Twitter.