Meteorologists
Featured Meteorologist Geoff Cornish
Geoff is an on-air meteorologist at AccuWeather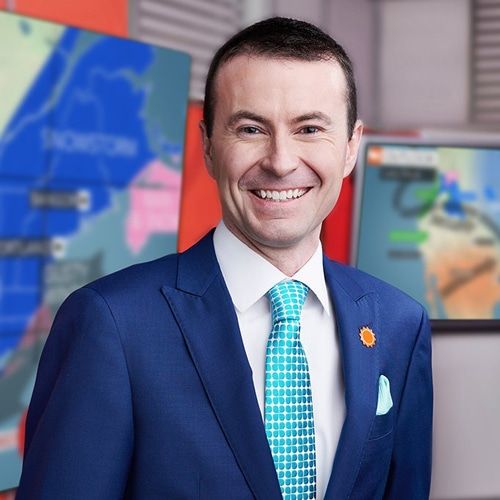 Q and A with Accuweather Meteorologist Geoff Cornish
Geoff is an on-air meteorologist at AccuWeather, where he appears on the AccuWeather Network, the AccuWeather app and website, and other client TV networks as well. You may find him doing a weather update on other networks like CalaWeather, ZBM (Bermuda), KPBS (San Diego), WVII (Bangor, Maine), and on a less-routine basis, on Fox News, Fox Business, Cheddar.TV, the Big Ten Network, CGTN America, and others who occasionally tap in to AccuWeather's resources.
Geoff loves the weather and wants to share his passion for the atmosphere while keeping people prepared and safe.
After growing up in the northwestern suburbs of Philadelphia, Geoff studied meteorology at Penn State University, where he received a B.S. in Meteorology in 2004. Five years later, he was granted the American Meteorological Society's CBM Seal of Approval. In 2013, he and five others on his weekend evening team at WTVG in Toledo, OH were honored with a regional Emmy Award for Best Weekend Newscast in the Great Lakes region (Markets 41+), for a newscast focusing on tornadoes that damaged homes in the Toledo metro area that evening.
Geoff's first job after graduating was with Penn State's Department of Meteorology, where he and a small team of others produced the New York Times Weather Page. (That account now is handled by AccuWeather, right down the hall from his current work station.)
Over the next 11 years, Geoff worked in local television as a meteorologist at KOAM TV (Joplin, MO / Pittsburg, KS), WTVQ (Lexington, KY), WTVG (Toledo, OH) and then as Chief Meteorologist at WICU / WSEE TV (Erie, PA). At WICU / WSEE, Geoff and the team also served as the weather team for One Caribbean Television, a cable network.
Geoff got the opportunity to join the growing on-air staff at AccuWeather in 2017 and has enjoyed being a part of the growth of the AccuWeather Network.
He lives in central Pennsylvania with his wife and two children, and he loves serving as a volunteer firefighter and is also very active in his church.
Geoff can be found on Twitter at @StormOfCorn
What was your most memorable weather event?
My most memorable weather event was the deadly Picher, OK / Newton County, Missouri EF-4 tornado on May 10, 2008. The tornado touched down near the Kansas / Missouri line and traveled across northern Ottawa County, Oklahoma, destroying the town of Picher, and then moved across Newton County, Missouri. I was still young on my career and it became a life-changing day at work for me, as I tracked the tornado and other nearby supercell thunderstorms for a couple of hours on the green screen. I had done tornado coverage before, but this event changed the way I view the career of a meteorologist. 21 people were killed in my viewing area that afternoon, but some of the feedback received by survivors who happened to tune in to KOAM / KJFX TV was very sobering and meaningful, as there were some who expressed that they took shelter and survived, despite significant damage to their homes.
Growing up outside of Philadelphia, the 1993 Superstorm and Blizzard of 1996 were especially memorable.
What is your favorite and least favorite type of weather?
I truly enjoy almost any type of weather. The variety, from season to season, is especially appealing to me as it keeps us on our toes. Overall, I'd say a heavy snowstorm is my favorite. Lake effect snow was a lot of fun to experience during my time in Erie. Incredible snowfall from larger "synoptic-scale" storms can be just as fun, though. I also enjoy a good summertime thunderstorm.
If you weren't a meteorologist what would you most like to be?
If I weren't a meteorologist, I might work in emergency management, or as a pilot. I could also see myself as a Public Information Officer for a large city fire department. (I've been a volunteer firefighter for more than a decade and it is a big part of my life as well.)
From a purely meteorological point of view, where would you most like to live?
From a purely meteorological point of view, I'm almost inclined to say I'd love to live in the Adirondacks in the winter, Pennsylvania in the spring and fall, and Hilton Head Island, South Carolina in the summer.
Is there anything else you'd like to share?
The weather is something that I'm very passionate about and that passion spills into other aspects of my life. For example, weather plays a very significant role in activity associated with the fire service. As a volunteer firefighter in the State College community, our call volume increases sharply during storms from wind events, excessive precipitation, freezing rain or drizzle, or even just the onset of extreme cold, without precipitation. Also, as a man of faith, weather events like a 55,000 foot tall supercell thunderstorm in the Plains serve as a spectacular reflection of God's magnificence. The beauty and power are amazing. On a different level, the crippling travel impact of 0.02″ of freezing drizzle is also a reminder that we are not the ones in control.
If you are interested in being a Featured Meteorologist on StormHour please contact mark@stormhour.com or via DM on Twitter